Original research

Open Access
ELIXYS - a fully automated, three-reactor high-pressure radiosynthesizer for development and routine production of diverse PET tracers
Received: 20 April 2013
Accepted: 2 July 2013
Published: 12 July 2013
Abstract
Background
Automated radiosynthesizers are vital for routine production of positron-emission tomography tracers to minimize radiation exposure to operators and to ensure reproducible synthesis yields. The recent trend in the synthesizer industry towards the use of disposable kits aims to simplify setup and operation for the user, but often introduces several limitations related to temperature and chemical compatibility, thus requiring reoptimization of protocols developed on non-cassette-based systems. Radiochemists would benefit from a single hybrid system that provides tremendous flexibility for development and optimization of reaction conditions while also providing a pathway to simple, cassette-based production of diverse tracers.
Methods
We have designed, built, and tested an automated three-reactor radiosynthesizer (ELIXYS) to provide a flexible radiosynthesis platform suitable for both tracer development and routine production. The synthesizer is capable of performing high-pressure and high-temperature reactions by eliminating permanent tubing and valve connections to the reaction vessel. Each of the three movable reactors can seal against different locations on disposable cassettes to carry out different functions such as sealed reactions, evaporations, and reagent addition. A reagent and gas handling robot moves sealed reagent vials from storage locations in the cassette to addition positions and also dynamically provides vacuum and inert gas to ports on the cassette. The software integrates these automated features into chemistry unit operations (e.g., React, Evaporate, Add) to intuitively create synthesis protocols. 2-Deoxy-2-[18F]fluoro-5-methyl-β-l-arabinofuranosyluracil (l-[18F]FMAU) and 2-deoxy-2-[18F]fluoro-β-d-arabinofuranosylcytosine (d-[18F]FAC) were synthesized to validate the system.
Results
l-[18F]FMAU and d-[18F]FAC were successfully synthesized in 165 and 170 min, respectively, with decay-corrected radiochemical yields of 46% ± 1% (n = 6) and 31% ± 5% (n = 6), respectively. The yield, repeatability, and synthesis time are comparable to, or better than, other reports. d-[18F]FAC produced by ELIXYS and another manually operated apparatus exhibited similar biodistribution in wild-type mice.
Conclusion
The ELIXYS automated radiosynthesizer is capable of performing radiosyntheses requiring demanding conditions: up to three reaction vessels, high temperatures, high pressures, and sensitive reagents. Such flexibility facilitates tracer development and the ability to synthesize multiple tracers on the same system without customization or replumbing. The disposable cassette approach simplifies the transition from development to production.
Keywords
Automated radiosynthesis
Fluorine-18
High-pressure synthesis
Multipot synthesis
Disposable cassette
FAC
Background
Positron-emission tomography (PET) has opened the door to in vivo imaging for the purposes of non-invasive disease detection, cancer staging, and drug efficacy screening [1]. 2-[18F]fluoro-2-deoxy-d-glucose ([18F]FDG) is the most commonly utilized PET tracer due to its relative ease of production, manageable half-life, and ubiquitous application [2, 3]. The increased demand for [18F]FDG has led to the development of many automated radiosynthesizers to lower its cost, enable its production at many different sites, and reduce the radiation exposure to the radiochemist [4, 5].
Though automated synthesis of [18F]FDG is extremely valuable, there are many 18F-labeled PET tracers that await an automated synthesizer to streamline their production [6]. Some of these tracers require high pressures, complicated chemistry, and/or corrosive reagents that make automation difficult. For example, nucleoside analogs that have been used in imaging cell proliferation and reporter gene expression [7–9] and as possible screening agents for chemotherapy drug efficacy [10] often require high-temperature reactions in volatile solvents. Several attempts have been made to automate the syntheses of these tracers on commercially available radiosynthesizers. Often, these attempts have required modifications to the chemistry (e.g., use of alternative solvents or reduced temperatures) to reduce the pressures involved and avoid exceeding the limitations of the radiosynthesizers [8, 11–16].
To overcome these synthesizer limitations, we previously developed a platform with movable components that seals the reaction vessel against an inert stopper during reactions to avoid exposure of tubing and valves to high pressures [17]. We further developed this system into a modular computer-controlled platform [18] and demonstrated the successful synthesis of 2-deoxy-2-[18F]fluoro-5-methyl-β-l-arabinofuranosyluracil (l-[18F]FMAU) and 2-deoxy-2-[18F]fluoro-β-d-arabinofuranosylcytosine (d-[18F]FAC). We describe here the integration of three of these modules into an automated synthesizer [19] and the addition of numerous improvements and features to increase the reliability and user-friendliness of the system. The ELIXYS three-reactor synthesizer is designed to use disposable cassettes for ease of setup and operation and to facilitate rapid transition from tracer development to routine production. The system also has an integrated, automated reagent handling robot to deliver sensitive reagents from sealed vials on demand. This paper describes in detail this radiosynthesizer and its characterization and validation via the synthesis of d-[18F]FAC and l-[18F]FMAU. The details of the software interface were published as a companion article [20].
Methods
Apparatus
The hardware and software of the ELIXYS radiosynthesizer were designed to be user-friendly and accommodate a wide variety of synthesis protocols by allowing the user to customize the reagents, reaction times, temperatures, and intermediate purifications in a manner that focuses on organizing automated synthesis steps into 'unit operations.' These chemistry operations serve as intuitive building blocks from which diverse syntheses can be constructed without the need for reconfiguring the instrument to perform different syntheses.
The radiosynthesizer (Figure
1
) has three key components working in concert: a set of three reactors (Figure
2
), a reagent and gas handling robot (Figure
3
), and disposable cassettes (Figure
4
). The cassettes store reagents in sealed vials, act as the primary fluid path for both reagents and gas flow, and have a rubber gasket affixed to the bottom for sealing the top of glass reaction vessels. Cassettes accelerate setup, eliminate the need for cleaning, and facilitate a natural transition from tracer development to routine production. The reactor subassemblies provide temperature control of the reaction vessel and movement of the vessel to various positions beneath the cassette designed for evaporations, sealed reactions, reagent addition, and transfer of product. Once aligned at the proper position, the reactor is raised to seal the top of the vessel against the gasket on the underside of the cassette. The two-axis reagent and gas handling robot supplies inert gas (to drive fluid movement and assist with evaporations) and vacuum (to remove vapor during evaporations) to special interfaces on the top of the cassettes. A gripper mounted to the same robot manipulates reagent vials between storage and addition positions.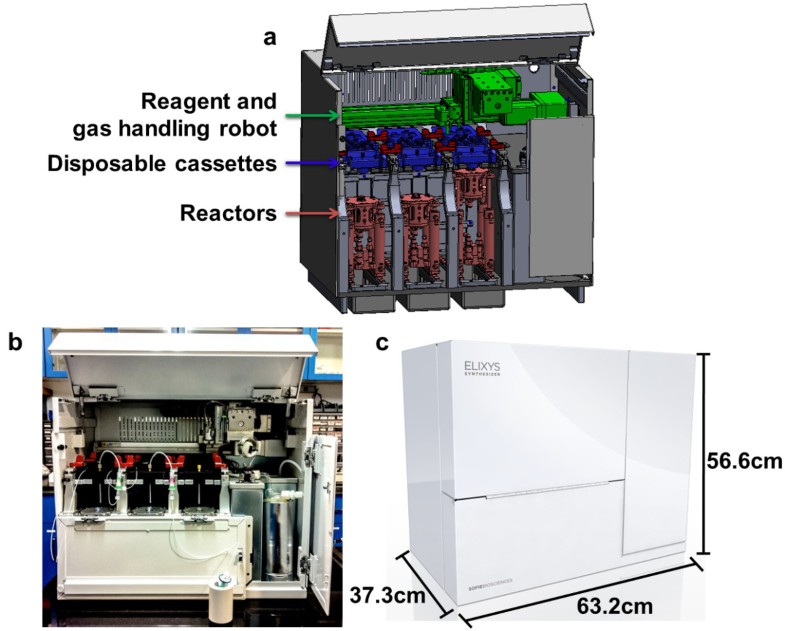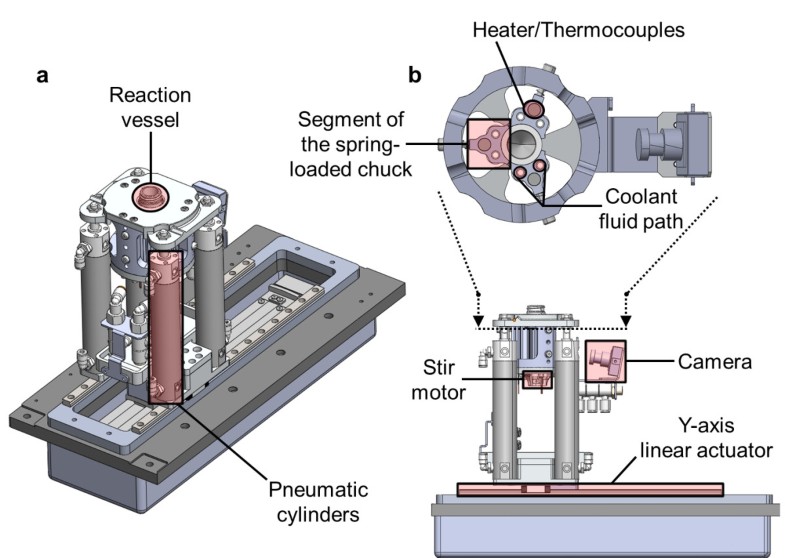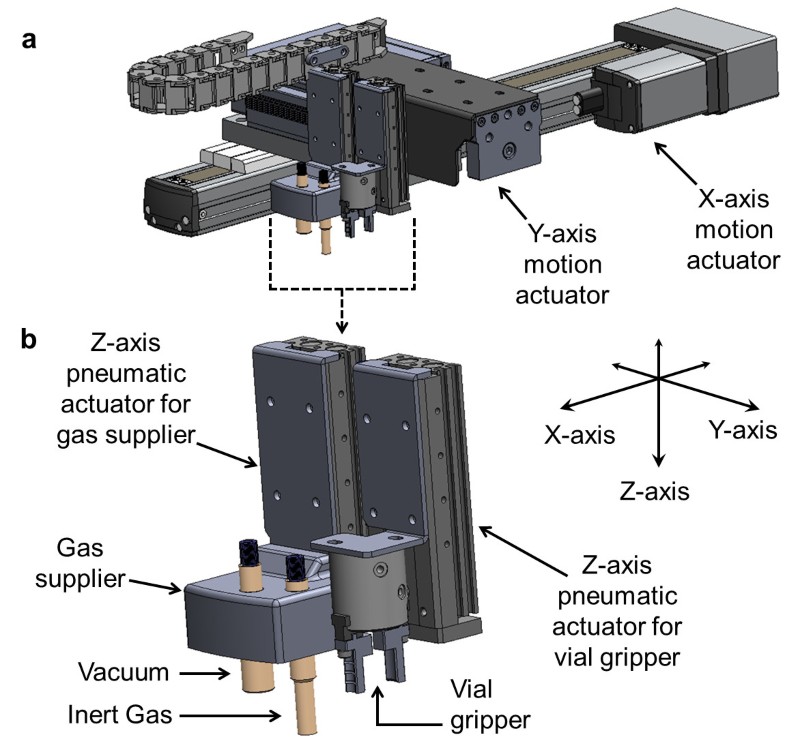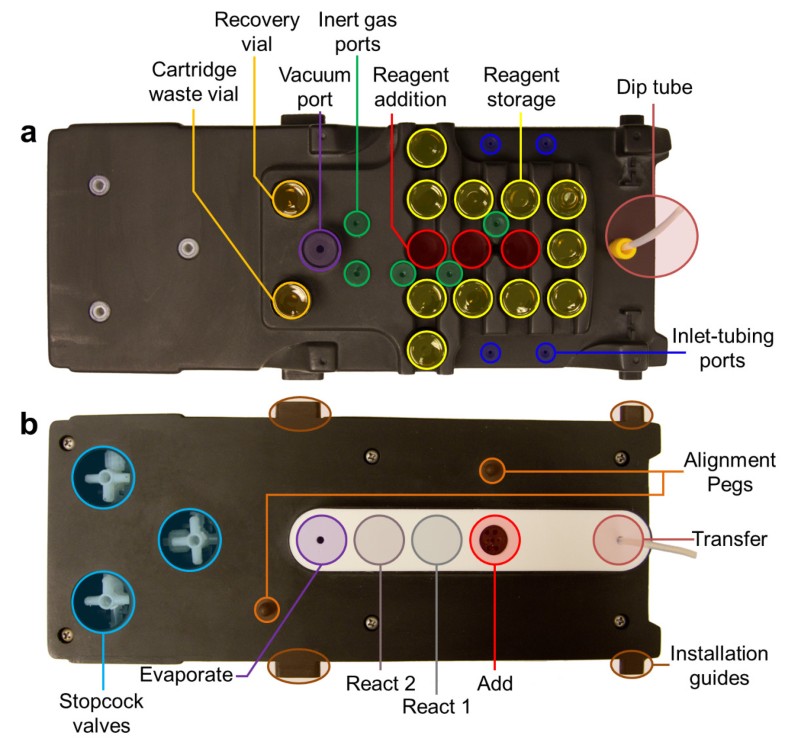 System operations
The ELIXYS performs automated syntheses by completing a sequence of chemistry unit operations (Table
1
). The interactions among the ELIXYS subsystems and disposable cassettes to carry out each operation are described in the following subsections.
Table 1
List of unit operations available to build a synthesis sequence
| Unit operation | Description of function |
| --- | --- |
| Initialize | Initializes hardware |
| TrapF18 | Trap [18F]fluoride from cyclotron or preloaded external vial |
| EluteF18 | Elute [18F]fluoride with a reagent from the cassette |
| Add | Add a reagent from any cassette |
| Evaporate | Evaporate the contents of a reactor |
| React | Fully seal a reaction vessel for a reaction |
| Transfer | Transfer solvents and reaction products from one reaction vessel to another, often using purification cartridges in between |
| TransferToHPLC a | Transfers the contents of the reaction vessel to the HPLC injection loop |
| ExternalAdd | Move a reactor to its add position for externally adding a reagent |
| Mix | Mix the contents of a reaction vessel |
| Install | Move a reactor to a position for reaction vessel removal and/or installation |
| MeasureRadiation a | Measures the radiation level of a given reactor |
Radiosynthesis
Materials
No-carrier-added [18F]fluoride was produced by the (p,n) reaction of [18O]H2O (98% isotopic purity, Medical Isotopes, Pelham, NH, USA) in a RDS-112 cyclotron (Siemens, Knoxville, TN, USA) at 11 MeV using a 1-mL tantalum target with Havar foil. 2-O-(Trifluoromethylsulfonyl)-1,3,5-tri-O-benzoyl-alpha-d-ribo-furanose, 2-O-(trifluoromethylsulfonyl)-1,3,5-tri-O-benzoyl-alpha-l-ribo-furanose, bis(trimethylsilyl)cytosine, and 5-methyl-2,4-bis[(trimethylsilyl)oxy]pyrimidine were purchased from ABX (Radeberg, Germany). Ethanol (200 proof) was purchased from the UCLA Chemistry Department (Los Angeles, CA, USA). Hydrochloric acid (1 N) was purchased from Fisher Scientific (Pittsburg, PA, USA). Anhydrous grade solvents and all other reagents were purchased from Sigma-Aldrich (Milwaukee, WI, USA). All reagents were used as received. QMA (WAT023525) and silica cartridges (WAT020520 and WAT043400) were purchased from Waters (Milford, MA, USA). The QMA cartridge was preconditioned with 10 mL of 1 M potassium bicarbonate followed by 10 mL of 0.1-μm-filtered 18 MΩ water, and the silica cartridges were preconditioned with 10 mL of anhydrous hexane.
Chromatography
Semi-preparative HPLC was performed with a WellChrom K-501 HPLC pump (Knauer, Berlin, Germany), reversed-phase Gemini-NX column (5 μm, 10 × 250 mm, Phenomenex, Torrance, CA, USA), UV detector (254 nm, WellChrom Spectro-Photometer K-2501, Knauer), and gamma radiation detector and counter (B-FC-3300 and B-FC-1000; Bioscan Inc., Washington, DC, USA). The mobile phase for d-[18F]FAC was 1% ethanol in 10 mM ammonium phosphate monobasic (flow rate 5 mL/min; retention time 15 min) and for l-[18F]FMAU was 4% acetonitrile in 50 mM ammonium acetate (flow rate 5 mL/min; retention time 20 min). Analytical HPLC was performed on a Knauer Smartline HPLC system with a Phenomenex reversed-phase Luna column (5 μm, 4.6 × 250 mm) with in-line Knauer UV (254 nm) and gamma radiation coincidence detector and counter (B-FC-4100 and B-FC-1000). The analytical HPLC mobile phase for d-[18F]FAC was 10% ethanol in 50 mM ammonium acetate (flow rate 1 mL/min; retention time 4 min) and for l-[18F]FMAU was 10% acetonitrile in 50 mM ammonium acetate (flow rate 1 mL/min; retention time 7 min). All chromatograms were collected using a GinaStar analog-to-digital converter (raytest USA, Inc., Wilmington, NC, USA) and GinaStar software (raytest USA, Inc.) running on a PC.
Synthesis protocol
Synthesis protocols for
d
-[
18
F]FAC and
l
-[
18
F]FMAU (Figure
7
) were nearly identical, differing only in precursors and HPLC mobile phases, and were programmed using the ELIXYS drag-and-drop software interface [
20
]. The protocols are a minor adaptation from the literature [
17
,
18
]. A summary of the reagents and unit operations used to synthesize the tracers can be found in Additional file
1
(Additional file
1
: Tables S1 and S2). Upon completion of each synthesis, the crude product was purified by semi-preparative HPLC and the desired product (beta form, structures c and f in Figure
7
) was collected and a sample taken for verification and specific activity analysis by analytical HPLC.

In vivo imaging
Four conscious C57BL/6 mice were injected at the UCLA Ahmanson Translational Imaging Division with 0.74 MBq (20 μCi) of
d
-[
18
F]FAC (tail vein, 60-min uptake) produced on the ELIXYS. Two days afterward, the same four mice were injected with
d
-[
18
F]FAC produced at the UCLA Biomedical Cyclotron Facility using a manually operated apparatus [
17
]. Before scanning, mice were anesthetized with 2% isoflurane and placed in a dedicated imaging chamber designed for use with both the PET and CT systems. Ten-minute whole-body PET images were acquired using a GENISYS
4
(Sofie Biosciences Inc., Culver City, CA, USA) and then transferred to the micro-CT (ImTek Inc., Knoxville, TN, USA) for an 8-min scan. Parameters for CT acquisition were 70 kVp, 500 μA, and an exposure time of 480 s. A Feldkamp reconstruction algorithm was applied. PET/CT images were fused and analyzed using OsiriX Imaging software (Pixmeo, Geneva, Switzerland). Uptake in the bone marrow (femur), spleen, and thymus were normalized to muscle tissue and respectively averaged over the four mice. Imaging data are presented in Figure
8
.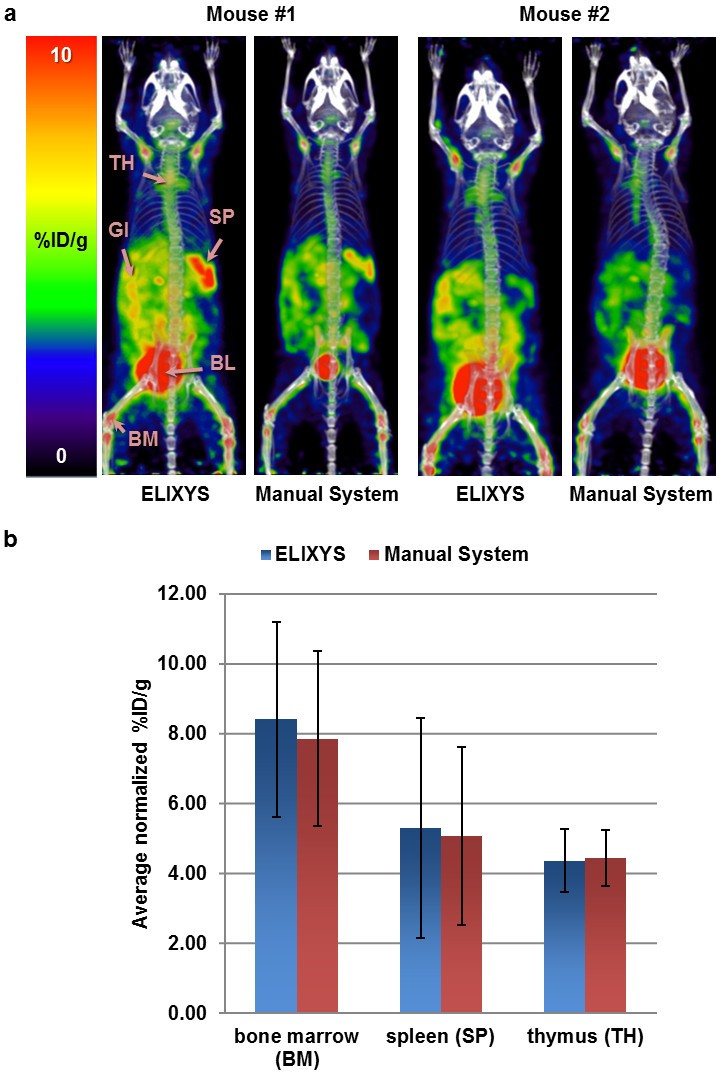 All animal experiments were approved by the UCLA Animal Research Committee and were performed according to the guidelines of the Division of Laboratory Animal Medicine at UCLA.
Results and discussion
To validate the functionality of the synthesizer, the three-reactor syntheses of
d
-[
18
F]FAC and
l
-[
18
F]FMAU were performed. The maximum radioactivity used in the syntheses was approximately 35 GBq. Decay-corrected radiochemical yield, duration of synthesis, and specific activity are listed in Table
2
. Synthesis times and yields are comparable to or better than other reports found in the literature [
11
,
16
,
17
,
24
].
Table 2
Comparison of synthesis data
Radiotracer

Reference

Radiochemical yield (%)

Duration of synthesis (min)

Specific activity (GBq/μmol)

[18F]FAC

Amarasekera et al. [17]

39 ± 5 (n = 13)

~240

>37

This work

31 ± 5 (n = 6)

165

37 to 44

[18F]FMAU

Alauddin et al. [11]

20 to 30

210 to 240a

85.1

Mangner et al. [24]

42.1 ± 12.1 (n = 9)

160

111b

Li et al. [16]

12 ± 3 (n = 4)

150a

14.2 ± 1.2

Amarasekera et al. [17]

35 ± 6 (n = 10)

~240

>37

This work

46 ± 1 (n = 6)

170

100 to 170
The ELIXYS currently supports PET tracer production in our preclinical facility, and therefore, products were confirmed by coinjection with cold standard into the analytical HPLC, and radiochemical purity was found to be >99% for both tracers. However, numerous batches of d-[18F]FAC (as well as other tracers) have been subjected to the complete set of quality assurance tests required for clinical use and have passed. These tests include residual solvent analysis via gas chromatography, Kryptofix K222 spot test, filter integrity test, radionuclide identity by half-life and energy, visual inspection of optical clarity, as well as pyrogenicity and sterility. We are currently updating the software for compliance with current good manufacturing practice, and the updated system will be placed in a clinical facility for production of tracers under 21 CFR 212 regulations or USP 823 guidelines.
In vivo imaging using d-[18F]FAC produced on ELIXYS and that produced by the UCLA Biomedical Cyclotron Facility in a manually operated apparatus [17] showed comparable images and uptake as expected in the gastrointestinal tract (GI) and hematopoietic organs (Figure 8) [25]. Though there appears to be higher 'noise' (muscle uptake) in the images of mice injected with ELIXYS-produced d-[18F]FAC, there is also higher 'signal' (organ uptake). Indeed, whole-body regions of interest excluding the tail showed that the total amount of activity was higher in the images of the mice injected with the ELIXYS-produced tracer. We suspect that there may have been variations in the injections, e.g., more tracer left in the tail in some of the images, leading to a lower amount of activity in circulation. To remove these biases, organ uptake was normalized to a region of muscle tissue that showed no significant uptake.
The disposable cassette approach has allowed for multiple tracers in addition to d-[18F]FAC and l-[18F]FMAU to be readily synthesized, including 2-deoxy-2-[18F]fluoro-5-ethyl-β-d-arabinofuranosyluracil (d-[18F]FEAU) [26] as well as 2-[18F]fluoro-2-deoxy-d-glucose ([18F]FDG), 3-deoxy-3-[18F]fluoro-l-thymidine ([18F]FLT), [18F]fallypride, 9-(4-[18F]-fluoro-3-hydroxymethylbutyl)-guanine ([18F]FHBG), and N-succinimidyl-4-[18F]fluorobenzoate ([18F]SFB) (results to be published separately), by simply switching cassettes and software programs. No hardware or plumbing changes were needed between productions of different tracers.
Conclusion
We have developed a new, versatile radiosynthesizer that is suitable both for reaction development and routine production of PET tracers. The ELIXYS synthesizer contains very few wetted fittings and tubing compared to other radiosynthesizers, yet through the unique use of motion to implement dynamically reconfigurable fluid paths, it is capable of diverse syntheses without hardware customization. It has been designed to be capable of diverse syntheses requiring up to three reaction vessels, high-pressure and high-temperature reactions, as well as sensitive, corrosive, and volatile reagents.
To validate this new system, the three-reactor syntheses of d-[18F]FAC and l-[18F]FMAU were demonstrated, and yields and synthesis times were found to be comparable to other reports. Several additional tracers of varying complexity have also been successfully synthesized on this system.
Declarations
Acknowledgments
This work was supported in part by the Department of Energy Office of Biological and Environmental Research (DE-SC0001249 and DE-FG02-06ER64249), the UCLA Foundation from a donation made by Ralph and Marjorie Crump for the Crump Institute for Molecular Imaging, and Sofie Biosciences, Inc. We would like to acknowledge Dan Thompson and the rest of the team at Design Catapult for their insight and creativity in tackling some of the complex engineering challenges. We greatly appreciate Dr. Saman Sadeghi and Phillip Marchis for providing d-[18F]FAC from the UCLA Biomedical Cyclotron Facility; Drs. David Nathanson, Liu Wei, Caius Radu, and Johannes Czernin for generously supporting the microPET imaging; and Dr. Nagichettiar Satyamurthy for his invaluable advice.
Authors' Affiliations
(1)
Department of Bioengineering, Henry Samueli School of Engineering, UCLA, Los Angeles, USA
(2)
Department of Molecular and Medical Pharmacology, David Geffen School of Medicine, UCLA, Los Angeles, USA
(3)
Crump Institute for Molecular Imaging, David Geffen School of Medicine, UCLA, Los Angeles, USA
(4)
Sofie Biosciences, Inc., Culver City, USA
Copyright
© Lazari et al.; licensee Springer. 2013
This article is published under license to BioMed Central Ltd. This is an Open Access article distributed under the terms of the Creative Commons Attribution License (http://creativecommons.org/licenses/by/2.0), which permits unrestricted use, distribution, and reproduction in any medium, provided the original work is properly cited.