Original research

Open Access
The power of FDG-PET to detect treatment effects is increased by glucose correction using a Michaelis constant
Received: 14 May 2012
Accepted: 15 June 2012
Published: 27 June 2012
Abstract
Background
We recently showed improved between-subject variability in our [18F]fluorodeoxyglucose positron emission tomography (FDG-PET) experiments using a Michaelis-Menten transport model to calculate the metabolic tumor glucose uptake rate extrapolated to the hypothetical condition of glucose saturation: , where K i is the image-derived FDG uptake rate constant, K M is the half-saturation Michaelis constant, and [glc] is the blood glucose concentration. Compared to measurements of K i alone, or calculations of the scan-time metabolic glucose uptake rate (MRgluc = K i * [glc]) or the glucose-normalized uptake rate (MRgluc = K i*[glc]/(100 mg/dL), we suggested that could offer increased statistical power in treatment studies; here, we confirm this in theory and practice.
Methods
We compared K i, MRgluc (both with and without glucose normalization), and as FDG-PET measures of treatment-induced changes in tumor glucose uptake independent of any systemic changes in blood glucose caused either by natural variation or by side effects of drug action. Data from three xenograft models with independent evidence of altered tumor cell glucose uptake were studied and generalized with statistical simulations and mathematical derivations. To obtain representative simulation parameters, we studied the distributions of K i from FDG-PET scans and blood [glucose] values in 66 cohorts of mice (665 individual mice). Treatment effects were simulated by varying and back-calculating the mean K i under the Michaelis-Menten model with K M = 130 mg/dL. This was repeated to represent cases of low, average, and high variability in K i (at a given glucose level) observed among the 66 PET cohorts.
Results
There was excellent agreement between derivations, simulations, and experiments. Even modestly different (20%) blood glucose levels caused K i and especially MRgluc to become unreliable through false positive results while remained unbiased. The greatest benefit occurred when K i measurements (at a given glucose level) had low variability. Even when the power benefit was negligible, the use of carried no statistical penalty. Congruent with theory and simulations, showed in our experiments an average 21% statistical power improvement with respect to MRgluc and 10% with respect to K i (approximately 20% savings in sample size). The results were robust in the face of imprecise blood glucose measurements and K M values.
Conclusions
When evaluating the direct effects of treatment on tumor tissue with FDG-PET, employing a Michaelis-Menten glucose correction factor gives the most statistically powerful results. The well-known alternative 'correction', multiplying K i by blood glucose (or normalized blood glucose), appears to be counter-productive in this setting and should be avoided.
Keywords
FDG-PETGlucose correctionMichaelis-MentenResponse to treatmentGlucose bias
Background
Quantitative 18F]fluorodeoxyglucose positron emission tomography (FDG-PET) is increasingly relied upon to measure pharmacodynamic responses in controlled trials, bringing a greater need for accurate and reproducible scans to minimize the number of subjects needed for a successful trial. Glucose levels have long been recognized as a factor modulating FDG uptake [1–8]; but even so, there has been some debate regarding how best to compensate for changing glucose levels when comparing scans. Some investigators have eschewed glucose corrections altogether after observing increased rather than decreased statistical noise in 'corrected' PET measurements, attributing this, perhaps, to error in the glucose measurement itself [9, 10]. However, avoiding glucose correction poses a conundrum of interpretation when a treatment may induce a systematic change in blood glucose levels. Such treatments are known, and FDG-PET may be used to assess their impact; they include some potentially important new drugs still under clinical investigation, such as certain Akt and PI3K inhibitors [11, 12].
The seminal work of Sokoloff et al. [13] described the Michaelis-Menten kinetics of glucose and tracer transport and showed how the radioactive tracer uptake rate constant (K i) could be used to estimate the tissue glucose uptake in physiological units, i.e., the metabolic rate of glucose (MRgluc = K i*[glc]/LC μmol glucose per 100 g tissue per min). Under steady-state conditions, the half-saturation Michaelis constants (K M) and the maximal velocities (V max) for tracer and glucose are factored into the lumped constant (LC) which summarizes the differential properties of tracer and glucose. Scans obtained under different blood glucose levels will almost inevitably indicate different metabolic rates of glucose, and one must decide how to detect changes in tumor glucose metabolism that are not merely due to changes in blood glucose.
We recently demonstrated [14] that in untreated animals, both tumor K i values and MRgluc values were, on the average, strongly correlated with blood glucose, showing that an appropriate form of blood glucose correction might facilitate the identification of treatment effects under changing glucose conditions. We sought to understand this glucose effect so that an appropriate compensating correction could be made, expecting that this would improve the power to detect treatment effects.
The Michaelis-Menten relationship between glucose concentration and transport [13–19] was used as the basis of the proposed correction. With it, we showed that, on the average, there was less variability in untreated animals when estimating the hypothetical glucose-saturated limit to the tumor metabolic rate of glucose rather than the tracer rate constant (K i) or the actual scan-time metabolic rate of glucose (MRgluc). is the asymptotic limit to the plot of uptake rate versus [glucose]. K M is a half-saturation Michaelis constant such that .
To demonstrate a true drug-induced treatment effect on glucose uptake in the tumor tissue independent of any changes in blood glucose (see Table 
1
and Additional files
1
and Additional file
2
), we selected dynamic FDG-PET scans from 60 mice treated with inhibitors of the cell-signaling MEK and RAF tyrosine kinases [
20
,
21
]. These have previously been reported as modulating FDG-PET in preclinical and clinical settings [
22
–
24
], and we have observed drug-induced reductions in FDG uptake both in solid tumors and in cell culture. A plausible mechanism for this reduction was demonstrated through GLUT-1 immunofluorescence. We analyzed data before and after 7 days of treatment, a compromise between early read-out and being certain that the treatment had had time to take effect.
Table 1
Treatment studies, cell lines, and drug substances
| Study | Cell line | Tissue Type | Drug substance | Mice |
| --- | --- | --- | --- | --- |
| A | A375 | Melanoma | GDC-0879 (BRAF) | 18 |
| B | A2058 | Melanoma | G-00033054 (MEK) | 18 |
| C | HCT116 | Colorectal | GDC-0973 (MEK) | 24 |
| | | | TOTAL | 60 |
Because limited experimental studies alone were inadequate to explore with any certainty the power relationships in (relatively noisy) FDG-PET data, we have supplemented these experiments with statistical simulations and with analytical derivations that are presented in Additional file 3.
Methods
The experimental setting
Our laboratory experiments employed dynamic FDG-PET to measure the tumor uptake rate constant for FDG, K i, as a function of tumor treatment with tyrosine kinase inhibitor drugs. The experiments contained two or more groups of animals: one control group administered vehicle alone, and at least one treatment group administered an active drug in the same dosing vehicle. We analyzed data before and after 7 days of treatment, expecting that there would be no difference between the groups before treatment and that some treatment effect would be evident after 7 days. We compared K i with two alternative PET metrics that account for blood glucose in some way, MRgluc and , to study the relative merits of each metric at detecting a true tumor treatment effect as seen in the two-sample two-sided t-test. This is also the scenario the simulations (below) and power calculations ( Additional file 3) are designed to represent.
False positives
We considered that a true treatment effect altering tumor glucose uptake was one based on a physiological change in the tumor tissue per se. Thus, for our purposes, changes in tumor glucose uptake caused merely by alterations in blood glucose were not true treatment effects but fall into our definition of false positive results.
Derivations, statistics, and simulations
We studied the properties of the two-sample two-sided t-test comparing sample means of K i and between control and treatment groups, respectively, in analytical derivations (presented as Additional file 3) and in simulations which are described below. Data were simulated assuming either no treatment effect or assuming a treatment effect of 10% to 50% change in the glucose-saturated limit to the tumor glucose uptake rate, , specified in each simulation. As a function of the involved parameters, our study evaluated the test statistics under both the null and alternative hypotheses by estimation of false positives (including significant test results caused merely by changes in blood glucose) and the power to detect true differences in the tumor glucose uptake rate limit. Simulations were run in the statistical programming language R [30].
We assumed that the relationship between the FDG rate constant K i and glucose [glc] followed the Michaelis-Menten (MM) form [14–19] and that observations of the rate constant were corrupted by noise. That is, the observed rate constant was given by , where ε is the zero-mean Gaussian with variance , here denoted as . Let represent the sample average FDG uptake rates across n observations in the control and treatment groups, respectively, and let and be the sample averages of the quantity K i * (K M + [glc]) in the two groups. Under these assumptions, we compared the statistical properties of the t-test comparing and with the t-test comparing and .
The analytical derivation of the power functions relating to K i and follows standard developments based on the Gaussian distribution [31] and is presented for the interested reader in Additional file 3. To illustrate the validity of the derivation and to delineate when provides significantly improved statistical properties vis-à-vis K i, we simulated observations from the joint process (K i, [glc]) as follows. Given the parameters , a single draw of (K i, [glc]) was obtained by first sampling and , and then by evaluating . For each simulation iteration, the preceding was repeated n times each in the control and treatment groups, respectively, and two-sided t-tests were used to test for equality of means at α = 0.05 level of significance. A total of 4,000 simulation iterations were used in each setting.
To get representative simulations, we chose parameter values based on output from fitting the MM model to FDG-PET data from each of the 66 (as-yet-untreated) experimental cohorts of mice described in Table 
2
. For these studies, with the half-rate Michaelis constant set at
K
M
 = 130 mg/dL [
14
], the scatter plot in Figure 
2
shows estimates of versus σ
ε
. For , the sample mean and standard deviation were 47.9 and 12.7, respectively (range = 31.0 to 92.0), and for σ
ε
, they were 0.048 and 0.018, respectively (range = 0.022 to 0.113). Based on these values, the first simulation setting ('S1', noted on the face of Figure 
2
) represents an 'average' case with and σ
ε
set at their sample mean values of 48 and 0.048. The second ('S2') and third ('S3') settings (likewise noted on the face of Figure 
2
) represent cases with strong and weak signal-to-noise ratios, where and σ
ε
are set to (55, 0.028) and (38, 0.057), respectively. In each simulation, glucose was sampled according to [glc] ~ 
N
(90, 25
2
), the approximate marginal distribution of glucose across the sample data, and
K
M
remained fixed at 130 mg/dL.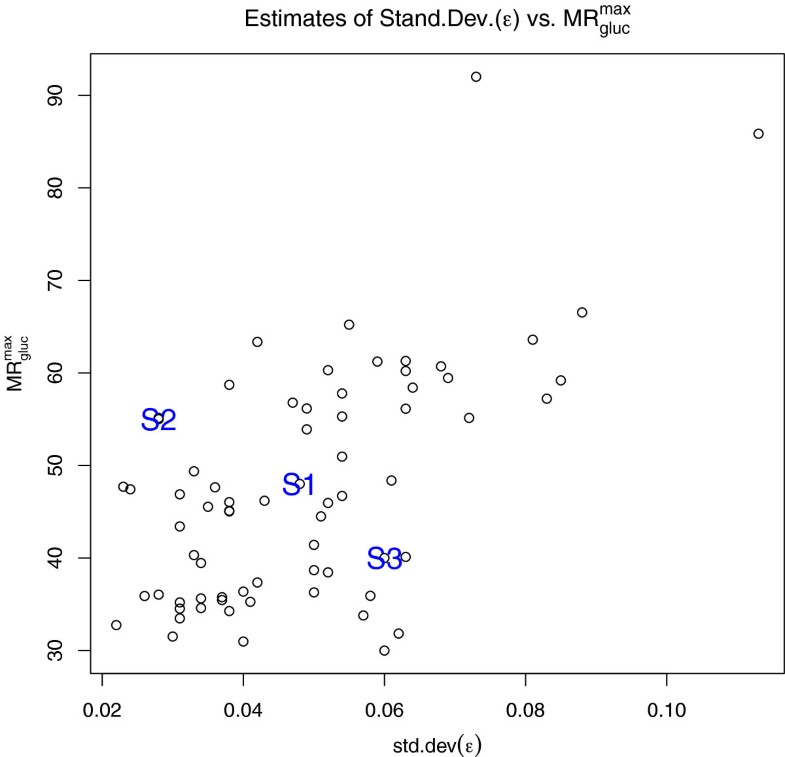 For simulations under the null hypothesis, the maximal uptake rate was set the same in the control and treatment groups, and we evaluated the effect on the false positive rate (i.e., concluding that there is a treatment effect when in fact there is none) caused merely by a change in mean blood glucose. Mean blood glucose changes of 10%, 20%, and 30% were assessed.
Simulations under the alternative hypothesis compared the power of the t-tests to detect treatment effects (δ) corresponding to an approximate 20% to 30% reduction in the tumor glucose uptake rate limit while keeping the glucose distribution the same. Sample sizes were chosen between n = 6 and n = 12.
The robustness of to errors in [glucose] and K M was also investigated by simulations. For errors in the measurement of blood glucose, we replaced the quantity K i (K M + [glc]) by K i (K M + [glc]*), where [glc]* = [glc] + N(0, 42). That is, the K i values were generated using the correct (uncorrupted) glucose values [glc], while was estimated using observed (corrupted) glucose [glc]*. A similar process of substitution was used with K M, using scenarios (K M = 100 mg/dL, K M* = 130 mg/dL) and (K M = 130 mg/dL, K M* = 100 mg/dL).
Conclusions
Quantitative comparisons of FDG-PET scans across time or between animals are subject to an elevated risk of erroneous results when they ignore blood glucose levels. Multiplying PET data by blood glucose levels or 'normalizing' the blood glucose to a common reference value (100 mg/dL, for example) offers no protection; in fact, it is frequently counterproductive. However, by calculating the hypothetical value of the maximum glucose uptake rate under saturating glucose conditions, , we see reduced problems of glucose bias and gain increased statistical power to detect treatment effects. Based on the average properties observed across 66 preclinical cohorts, the power improvement for was equivalent to reducing the sample size by 20% compared to the next best option, which was using the uncorrected K i data.
These benefits were realized in our preclinical studies of tyrosine kinase inhibitors by computing using a K M of 130 mg/dL. The analytical derivations and simulation methods described in this work should facilitate the exploration and assessment of our method in other settings. Because it is superior to making no glucose correction and its benefits are easily obtained and come with no penalty, we highly recommend the use of (K M + [glc]) rather than [glucose] or [glucose]/(100 mg/dL) as the glucose correction factor in quantitative FDG-PET studies.
Declarations
Acknowledgment
The authors would like to acknowledge the contributions of Annie Ogasawara, Alex Vanderbilt, Karisssa Peth, Leanne McFarland, Darlene DeLa Cruz, Jeff Tinianow, and Herman Gill for their help in executing the PET studies analyzed here.
Authors' Affiliations
(1)
Department of Biomedical Imaging, Genentech, Inc., South San Francisco, USA
(2)
Department of Pharmacokinetics and Pharmacodynamics, Genentech, Inc., South San Francisco, USA
(3)
Department of Biostatistics, Genentech, Inc., South San Francisco, USA
Copyright
© Williams et al.; licensee Springer. 2012
This article is published under license to BioMed Central Ltd. This is an Open Access article distributed under the terms of the Creative Commons Attribution License ( http://creativecommons.org/licenses/by/2.0), which permits unrestricted use, distribution, and reproduction in any medium, provided the original work is properly cited.