Original research

Open Access
Hemoglobin level significantly impacts the tumor cell survival fraction in humans after internal radiotherapy
Received: 9 February 2012
Accepted: 19 May 2012
Published: 19 May 2012
Abstract
Background
Anemia is usually not taken into account in internal radiotherapy. We investigated whether the hemoglobin (Hb) level could have an impact on the tumor response, as observed in external beam radiotherapy (EBRT).
Methods
Absorbed doses of 25 hepatic metastatic sites in eight patients who underwent a liver selective internal radiotherapy (SIRT) were computed by a 3D convolution of a dose deposition kernel with the 90Y time-of-flight positron emission tomography (TOF-PET) images acquired following therapy. Early tumor response was assessed by comparing a follow-up FDG TOF-PET scan with a baseline scan. Hb level was measured on the day of the SIRT procedure.
Results
All patients displayed early tumor response increasing with the tumor-absorbed dose. Significant differences between patients were noted, the response slope correlating with the Hb level. After applying a global fit on all metastases using a tumor radiosensitivity modulated by a Hb enhancement factor (HEF) linearly dependent on the Hb level, a strong correlation (R = 0.96) was observed between the early response and the absorbed dose. Hb level had a major impact on tumor response by modulating HEF by a factor 6.
Conclusions
These results prove the significant impact of Hb level on the tumor response and support the study of methods for correcting tumor hypoxia, such as intensively performed in EBRT. The quantitative analysis of the relationship between tumor doses and early response has the power to allow fast screening of such correction methods in limited patient series. Internal radiotherapy could be more efficient if performed earlier in the therapy line, when the disease- and treatment-related anemia remains limited.
Keywords
Liver SIRT
Internal radiotherapy
Dosimetry
Hemoglobin
Anemia
Dose-response.
Background
The importance of anemia as a prognostic factor of patient outcome in external beam radiotherapy (EBRT) of solid tumors has been documented in large clinical series and thoroughly reviewed [1–8]. This impact results from three related key points: (1) the hemoglobin (Hb) level was shown to strongly correlate with tumor oxygenation in numerous cancers [9], (2) substantial data show that tumor hypoxia is involved in processes conferring a growth advantage and the development of a more malignant phenotype [10–15], and (3) hypoxic tumors are reported to be less sensitive to ionizing radiation since the production of free radicals, which are responsible for lethal DNA breaks, increases with the O2 partial pressure (pO2) [16–18].
Internal radiotherapy differs from EBRT by higher tumor-absorbed doses delivered at a lower dose rate and with a more heterogeneous pattern. To the best of our knowledge, the impact of hypoxia on tumor response in patients treated by internal radiotherapy has never been directly addressed. Only the effect of Hb level on global symptoms, i.e., pain or cumulative survival, was reported in the treatment for painful osseous metastases in prostate cancer with 186Re-hydroxyethylidene-diphosphonate and 89Sr [19, 20]. The demonstration of a significant impact of anemia on tumor response in internal radiotherapy should allow improvements by considering strategies under intensive development in EBRT [21–26] but, as of today, totally ignored in internal radiotherapy.
Selective internal radiation therapy (SIRT) using 90Y-labeled microspheres is a rapidly emerging treatment of unresectable chemorefractory primary liver tumors and hepatic metastases mainly originating from colorectal cancer (CRC). Development of 90Y imaging by PET [27] after the SIRT procedure, and recently by pinhole bremsstrahlung SPECT [28], proved that tumor dosimetry is feasible [29–31] and evidenced a promising relationship between absorbed dose and early metabolic response [32] as already observed using 99mTc-MAA-based dosimetry [33]. The aim of this study is to further analyze this relationship and to investigate whether the Hb level measured on the day of the SIRT procedure has an impact on the early tumor response. For this purpose, an estimate of the tumor cell survival fraction was fitted using a tumor radiosensitivity modulated by a hemoglobin enhancement factor (HEF). This radiosensitivity modulation was implemented in the similar way that was performed for the tissue oxygenation when this parameter can be directly assessed [16–18].
Results and discussion
Results
Figure
2
shows the relationship between the absorbed doses and the response, estimated as the tumor metabolic ratio at approximately 7 weeks post-therapy for all metastatic sites. The tumor response was highly variable between patients but, per patient, was clearly dependent on the absorbed dose. Two patients showed a convincing response (gray squares and brown circle), one patient had two nonresponding tumors (cyan hexagons), whereas the remaining patients displayed a mix of responding and nonresponding tumors, depending on the absorbed doses.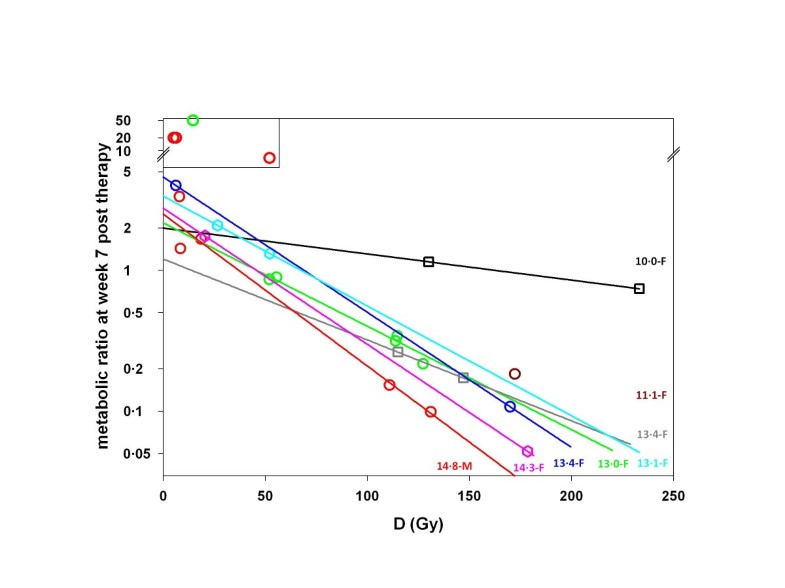 All tumors show a trend towards a similar proliferation rate by extrapolation of the response for D = 0, except for four metastases that clearly behave as outliers (Figure 2, see box in the left upper corner). These four metastases belong to two patients with a long disease and therapy history (2 and 4 years). It is likely that these metastases may have acquired a phenotype resulting in a doubling time significantly shorter than the mean of the other metastases. The global fit is performed assuming that all the metastases have the same doubling time (DT, Equation 3); accordingly, these four metastases were considered to be outside the application domain of the model and were ruled out for the global fit.
The global fit, run to estimate the biological parameters, was therefore performed on the 21 remaining metastases using ΣPlot 2000 version 6.00 (Systat Software Inc, San Jose, CA, USA) and resulted in the following values (best parameter =  2.1*std error, i.e., 95% confidence interval): DT = 50   8 day,
α
 = 0.018   0.003/Gy and
k
 = 0.23   0.05 dL/g. The left axis in Figure
3
shows the tumor cell survival fraction (Equation 3) as a function of HEF
p
D
p,m
that takes into account the Hb level (Equation 5). The line is the survival fraction modeled by Equation 4 using the parameters determined by the global fit (
R
 = 0.96). It can be observed that a number of tumors showed a metabolic ratio higher than one (right axis) even though their survival fraction was lower than one. These tumors actually showed a response that is not sufficient to counterbalance at week 7 the regrowth of the viable tumor cells.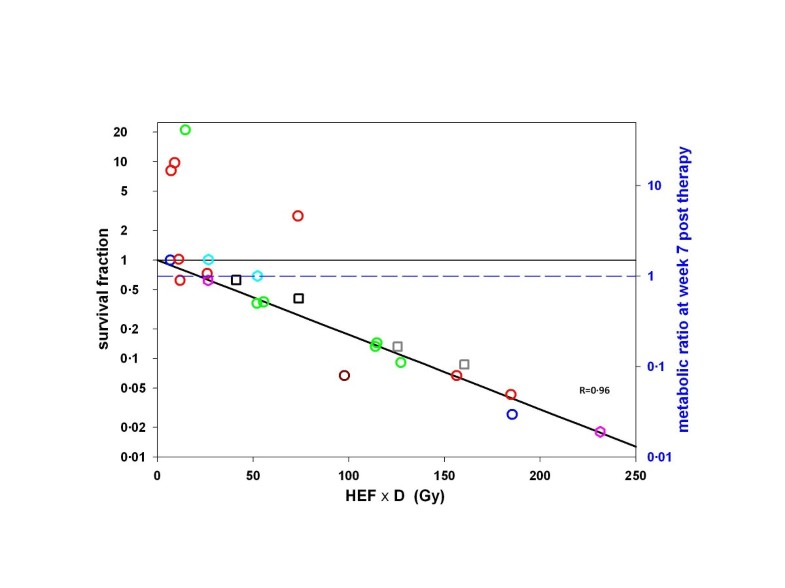 The optimal values of HEF for each patient in relation with their Hb level are shown in Figure
4
. This graphical representation of Equation 5 indicates that the prediction of response in individual patients, taking into account their Hb level, is very close (
R
 = 0.94) to what would be expected from the global fit (see Additional file
1
).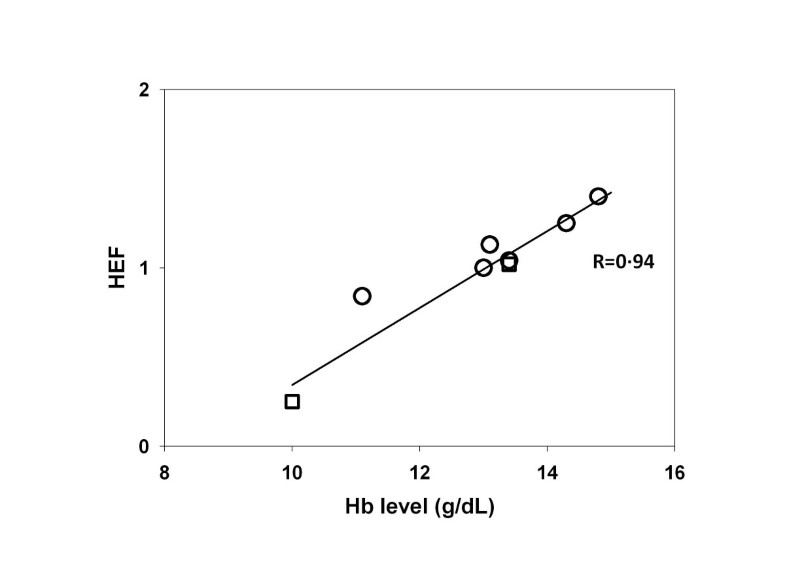 Discussion
This study clearly shows the impact of Hb level on tumor response. This impact was quantitatively interpreted, introducing a HEF, as the effect of tumor hypoxia induced by the patients' anemia (Figure 3). This is the first time that such analysis was applied to in vivo human data. This methodology is usually limited to preclinical models, such as cell assays or xenograft tumors in rodents. In preclinical models, almost all parameters are under control, such as the tumor cell line and time of progression. In the clinics, there is a large heterogeneity of metastases between patients but also within the same patient. In particular, the duration of progression of a single lesion in a particular patient is usually totally overlooked. This may lead to variations in the tumor cell phenotype, with some metastases becoming significantly more proliferative. We initially assessed tumor metabolic response using FDG uptake without knowledge of any other parameters. As already observed using morphological estimates, 50 Gy was required to observe any response. There was a clear trend towards a dose-response relationship, but the correlation was weak (R = 0.51). After observing the different response patterns between patients, we looked at the Hb level as a possible factor accounting for this variance. After individually fitting patient data and highlighting the Hb level in Figure 2, it appeared obvious that some relationship did exist. We therefore applied the concept of a radiosensitivity modulation to the data, a paradigm that is classically utilized for in vitro data, and that, to the best of our knowledge, has never been applied to internal radiotherapy of patients.
This correction factor appeared tightly related to the Hb level and, hence, was called HEF. For Hb level ranging between 10 and 15 g/dL, the individual HEF estimate displayed a linear increase, reaΧng a ratio of 5.6 between these two extreme Hb levels (Figure 4). This is in keeping with the major impact of Hb level observed for EBRT in recurrent rectal cancer [38]. This is also in line with the observation of Vaupel et al. [9] showing by an invasive method that the tumor pO2 can vary by a factor 4 in breast cancer as a function of the Hb level. Such linear relationship is however not the rule: in uterine and cervical cancer and in head and neck cancer, a bell-shaped relationship was reported by Vaupel et al. [9], with a maximal pO2 value measured for Hb levels of 12.5 and 14 g/dL, respectively. Such intraoperative pO2 measurements are lacking for hepatic metastases from CRC.
The radiation sensitivity parameter α found (0.018/Gy for a normal Hb level of 13 g/dL) is about 15 × lower than values found in cell assays [39]: 0.31/Gy for melanoma and 0.25/Gy for CRC. However, this is consistent with the comparison of in vivo xenograft and in vitro data that suggests that the survival is considerably higher in vivo [40]. In a retrospective analysis of SIRT in 73 patients with hepatocellular carcinoma, Strigari et al., using a radiobiological model of tumor control probability (TCP) assessed in CT scan by the RECIST criteria but without addressing anemia, found two very low extreme bounds for the value of α [41]: 0.001 and 0.005/Gy, much lower than values reported using cell assays [42]: 0.1 and 0.4/Gy for HepG2 and Hep3b cell lines, respectively. The factor 5 between the extreme bounds of the radiosensitivity found by Strigari et al. is similar to the factor 5.6 that we found between patients with extreme Hb levels.
Kato et al. [43] set up an elegant experiment that enlightens the observations listed in both previous paragraphs. They modeled chronic hypoxia, which is usually the rule in patients, by culturing gastric cancer cells (OCUM-12 line) in successively decreasing partial oxygen pressures (pO2). An important fraction of cells died, but the survivors resulted in an OCUM-12 line that was still able to proliferate at 13 mmHg pO2 (called OCUM-12/hypo). The fit of the survival curves they measured shows that the chronic 13 mmHg pO2 exposure reduced by a factor 14 the radiosensitivity α of the OCUM-12/hypo line as compared to that of the original OCUM-12 parent line set in acute 13 mmHg pO2 for 24 h. For comparison, acute 13 mmHg pO2 in most cell lines decreases the radiosensitivity by only a factor of about 1.2 versus normoxic conditions ([44], Figure 3). Lastly, the results of Vaupel et al. [9] show that, for a normal Hb level of 13 g/dL, the typical tumor pO2 is in fact about 13 mmHg due to the disturbed vascular arΧtecture.
In a previous study on 90Y-DOTATOC therapy in patients with neuroendocrine tumors [45], we have shown for the first time a good relationship between tumor shrinkage and absorbed dose using morphological imaging. There was, however, considerable spread in this dose-response relationship. In the current study, the correlation is excellent (R = 0.96) and with little spread. This can be explained by the presence of more favorable features in the current study: (1) the absorbed dose is directly assessed from the distribution of the therapeutic agent, (2) the effective half-life is assumed identical to that of the physical decay and thus known with high accuracy, and (3) the Hb enhancement effect was taken into consideration.
In this study, the mean absorbed dose modulated by the Hb level proved being sufficient to correlate to the tumor metabolic response. Using this mean absorbed dose, the cell killing is overestimated in the regions of the VOI that received lower dose, but is underestimated elsewhere. Both effects tend to average. Further refinement to account for the dose distribution in the VOI, such as using the equivalent uniform dose (EUD), will also require the assessment of living cell distribution in this VOI. This could be done using the base‐line FDG scan. However, due to tumor evolution, the delay in our study between the base‐line FDG and the 90Y-microsphere scans makes a tumor co-registration on a voxel basis between the two scans impossible.
Conceptually, the doubling time could be assessed by extrapolating for each patient the absorbed dose-metabolic ratio relationship to the left axis (i.e., D = 0), as shown in Figure 2. However, this method is not applicable in view of the following: (1) the doubling time is not only patient dependent but also metastasis dependent (illustrated by the red and green circles), and (2) some patients have only one tumor (brown circle) or only two metastases far away from the left axis (gray squares), making the extrapolation impossible or very unstable, respectively. Accordingly, a single doubling time value common to all the metastasis was used in the global fit, and the value found (50 days) is in good agreement with CEA doubling time measured in 33 patients with hepatic CRC metastases (47   25 days) [46]. Individually fitting the four outlier metastases using Equations 3 and 4 with α = 0 allows giving an upper bound for their doubling time that was found to be 22.5, 13.9, 13.7 and 11.2 days, respectively. In a prospective clinical study, the individual metastasis doubling time could be assessed by acquiring an additional FDG scan close to the 90Y-PET scan, the FDG-BL scan being usually performed a few weeks before the SIRT procedure. This procedure should also help to investigate whether a lag time before regrowth starts after irradiation should be introduced in Equation 3, such as proposed in other models [47].
Our results showed that a higher Hb level is important to get an optimal tumor response in 90Y SIRT. Various correction methods to overcome tumor hypoxia in EBRT are under clinical investigation and intensively reviewed [21–26]: red cell transfusion or the use of recombinant human erythropoietin to correct anemia, enriched oxygen breathing or hyperbaric condition to increase tumor oxygenation, and the use of radiosensitizing drugs. Although some strategies are currently being proposed, contradictory results still exist between clinical studies. These studies are based on the late assessment of the disease outcome: local tumor control using morphological measurements (e.g., CT scan) or patient cumulative survival curves. Of course, these clinical studies are highly demanded because they really assess the final purpose of the therapy. However, they require large patient series and long follow-up period. Up to now, the quantitative analysis of the relationship between SF and absorbed dose has been widely performed on in vitro assays. Similar studies in rodent models allow obtaining this information on an individual tumor cell line in a small animal series. The same paradigm applied here allows, in individual patient, assessment of the effect of hypoxia on several tumors. This may, in turn, be used to evaluate potential optimization protocols in small patient series.
Conclusions
The current results show that absorbed dose alone is not sufficient to predict early tumor response, but this become feasible when introducing a simple hemoglobin enhancement factor linear to the patient's Hb level. While the oxygen effect is an important field of research in EBRT, these results support the study of similar strategies to reduce hypoxia in the framework of internal radiotherapy. The quantitative analysis of the relationship between tumor-absorbed doses and early response has the power to allow fast screening of hypoxia correction methods in limited patient series. Internal radiotherapy may be more efficient if performed earlier in the therapy line, when anemia related to disease progression or to treatment remains limited.
Declarations
Acknowledgments
We thank Thomas Paulus for his expert technical assistance in performing the 90Y TOF-PET.
Authors' Affiliations
(1)
Department of Nuclear Medicine, Cliniques Universitaires Saint Luc, Universitegrave Catholique de Louvain, Brussels, Belgium
(2)
Department of Interventional Radiology, Cliniques Universitaires Saint Luc, Universitegrave Catholique de Louvain, Brussels, Belgium
(3)
Department of Oncology, Cliniques Universitaires Saint Luc, Universitegrave Catholique de Louvain, Brussels, Belgium
Copyright
© Walrand et al.; licensee Springer. 2012
This article is published under license to BioMed Central Ltd. This is an Open Access article distributed under the terms of the Creative Commons Attribution License (http://creativecommons.org/licenses/by/2.0), which permits unrestricted use, distribution, and reproduction in any medium, provided the original work is properly cited.