Original research
Open Access
Simple, mild, one-step labelling of proteins with gallium-68 using a tris(hydroxypyridinone) bifunctional chelator: a 68Ga-THP-scFv targeting the prostate-specific membrane antigen
Received: 14 July 2017
Accepted: 16 October 2017
Published: 25 October 2017
Abstract
Background
Labelling proteins with gallium-68 using bifunctional chelators is often problematic because of unsuitably harsh labelling conditions such as low pH or high temperature and may entail post-labelling purification. To determine whether tris(hydroxypyridinone) (THP) bifunctional chelators offer a potential solution to this problem, we have evaluated the labelling and biodistribution of a THP conjugate with a new single-chain antibody against the prostate-specific membrane antigen (PSMA), an attractive target for staging prostate cancer (PCa). A single-chain variable fragment (scFv) of J591, a monoclonal antibody that recognises an external epitope of PSMA, was prepared in order to achieve biokinetics matched to the half-life of gallium-68. The scFv, J591c-scFv, was engineered with a C-terminal cysteine.
Results
J591c-scFv was produced in HEK293T cells and purified by size-exclusion chromatography. A maleimide THP derivative (THP-mal) was coupled site-specifically to the C-terminal cysteine residue. The THP-mal-J591c-scFv conjugate was labelled with ammonium acetate-buffered gallium-68 from a 68Ge/68Ga generator at room temperature and neutral pH. The labelled conjugate was evaluated in the PCa cell line DU145 and its PSMA-overexpressing variant in vitro and xenografted in SCID mice.
J591c-scFv was produced in yields of 4–6 mg/l culture supernatant and efficiently coupled with the THP-mal bifunctional chelator. Labelling yields > 95% were achieved at room temperature following incubation of 5 μg conjugate with gallium-68 for 5 min without post-labelling purification. 68Ga-THP-mal-J591c-scFv was stable in serum and showed selective binding to the DU145-PSMA cell line, allowing an IC50 value of 31.5 nM to be determined for unmodified J591c-scFv. Serial PET/CT imaging showed rapid, specific tumour uptake and clearance via renal elimination. Accumulation in DU145-PSMA xenografts at 90 min post-injection was 5.4 ± 0.5%ID/g compared with 0.5 ± 0.2%ID/g in DU145 tumours (n = 4).
Conclusions
The bifunctional chelator THP-mal enabled simple, rapid, quantitative, one-step room temperature radiolabelling of a protein with gallium-68 at neutral pH without a need for post-labelling purification. The resultant gallium-68 complex shows high affinity for PSMA and favourable in vivo targeting properties in a xenograft model of PCa.
Keywords
Tris(hydroxypyridinone) (THP)Prostate cancer (PCa)PSMAGallium-68 (68Ga)Single-chain antibody (scFv)
Background
Prostate cancer (PCa) is the most common cancer in men in Europe, with 417,000 new cases diagnosed in 2012 [1] and 75,800 deaths predicted in 2016 [2]. Prognosis is very good if the disease is detected early when it is confined to the prostate gland. However, in the presence of metastatic disease, 5-year survival drops significantly [1]. There is a need for sensitive imaging techniques to assess metastatic and locally recurrent PCa in order to improve the outcome for these patients [3]. Prostate-specific membrane antigen (PSMA) is a well-established marker for PCa, with elevated expression in virtually all PCa but particularly in high-grade disease [4]. The radiopharmaceutical 111In capromab pendetide (ProstaScint, EUSA Pharma, licenced in the USA since 1997) is a monoclonal antibody (mAb) that targets an internal epitope of PSMA, which limits its utility because of poor accessibility to circulating mAb [5]. In contrast, the mAb J591 targets an external epitope and has shown more promise as an imaging agent, labelled with 111In for SPECT imaging, 89Zr for PET imaging and 177Lu for targeted radionuclide therapy; however, no commercial product has emerged yet [6–8].
Another route to targeting PSMA expression uses small molecule inhibitors of the enzyme N-acetylaspartylglutamate peptidase, a structural and functional homologue of PSMA [3]. Several small molecules labelled with technetium-99m, iodine-123, iodine-124 and iodine-131 have shown promise for SPECT or PET imaging or therapy of PCa [9–11]. More recently, gallium-68-labelled small molecules, such as PSMA-HBED-CC (also called DKFZ-PSMA-11), have been evaluated for PET imaging of PCa [12–15]. Gallium-68 is a positron emitter obtained by elution of a generator loaded with germanium-68. The 270-day half-life of germanium-68 allows the generator to be used for about 1 year. There are several commercial suppliers of 68Ge/68Ga generators, one of which is now licensed in some European countries, meaning that its eluate meets the specifications of the European Pharmacopoeia (Ph Eur). Gallium-68 forms complexes with appropriate chelators, thus in principle, opening the potential for preparation of PET radiotracers by kit procedures [15], analogous to 99mTc in traditional radiopharmacy, rather than complicated radiochemistry and purification using cyclotron-produced fluorine-18.
The 68-min half-life of gallium-68 precludes its use with full-length mAbs because of their prolonged circulation times. Antibody fragments, particularly those of the scFv type, clear from circulation much more quickly [
16
]. To facilitate earlier imaging compatible with shorter half-life radionuclides such as gallium-68, our group has engineered fragments of the anti-PSMA mAb J591 for evaluation as imaging agents for PCa. We recently reported on a diabody radiolabelled with technetium-99m that showed specific binding to PSMA and favourable pharmacokinetics [
17
]. However, optimal images were not obtained until 4–8 h after injection, making it unsuitable for labelling with gallium-68. Accordingly, we have developed a single-chain variable region fragment (scFv) of J591 with an engineered C-terminal Cys residue (henceforth referred to as J591c-scFv) for conjugation to a bifunctional chelator (Fig.
1
).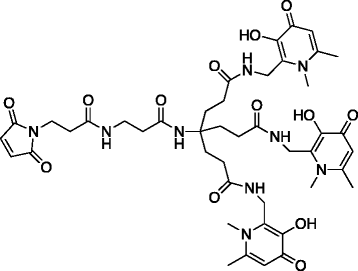 Protein labelling with gallium-68 is currently not straightforward, because currently available bifunctional chelators typically require relatively harsh labelling conditions such as high temperature, low pH and high chelator-conjugate concentration, often followed by a purification step [18–25]. These conditions are both inconvenient and often incompatible with protein-based radiopharmaceuticals. The aim of this work was to evaluate the use of tris(hydroxypyridinone) (THP), a high affinity chelator which efficiently binds gallium-68 rapidly at room temperature and neutral pH [15, 26–30], to avoid these problems and facilitate a mild, one-step protein labelling procedure without a need for a post-labelling purification step. By applying it in the context of the J591c-scFv antibody fragment, we also aimed to provide a preliminary preclinical evaluation of the radiopharmaceutical produced as a potential PET imaging agent for prostate cancer.
Discussion
J591c-scFv was engineered with a free Cys residue to allow coupling with THP-mal, a maleimide-containing bifunctional version of the tripodal chelator THP that labels at room temperature and neutral pH [15, 26–30]. The protein was obtained from the supernatant of a transfected HEK293T cell suspension in a purified yield of 4–6 mg/l. Gel electrophoresis and electrospray mass spectrometry showed that the protein was present mainly in oxidised form, with a disulfide bond to a Cys from the medium. This species reverted to the reduced J591c-scFv upon treatment with TCEP and could then be efficiently conjugated to THP-mal to give a single protein species as judged by gel electrophoresis and size-exclusion HPLC. After the removal of TCEP by size-exclusion chromatography, however, subsequent handling resulted in the formation of variable amounts of a covalent or non-covalent dimeric form detectable by size-exclusion HPLC, PAGE and mass spectrometry.
Although the eluate of the current 68Ge/68Ga generator meets the specification of the Ph Eur and thus is suitable for administration to patients, and THP conjugates can be labelled efficiently using unprocessed eluate [15], the present work was performed before the latter discovery and utilised a preconcentration step in which gallium-68 was trapped on a cation exchange cartridge and eluted in a small volume of NaCl/HCl [21]. The eluate was neutralised with ammonium acetate and incubated with THP-mal-J591c-scFv at room temperature. After surveying a range of labelling conditions, protocols were established involving 5-min incubation at room temperature of aliquots of 5–80 μg protein at concentrations of 0.25–0.4 μg/μl. This extremely simple and quick protocol gave quantitative labelling and required no post-labelling purification or harsh conditions such as low pH or elevated temperature that might denature the protein, and is a suitable basis for future development of a simple, one-step kit-based GMP labelling procedure for proteins. This confirms the advantages, in the context of protein labelling, of the THP chelator over other potential chelating systems that require either heat or low pH, or both, to achieve efficient labelling.
After radiolabelling, small and variable amounts of a heavier labelled protein were detectable by size-exclusion radiochromatography (Fig.
2
) and by radio-gel electrophoresis (Additional file
1
: Figure S5, lane 3). The failure of electrospray mass spectrometry to detect this higher molecular weight species suggests that it is a non-covalent dimer that readily dissociates even under non-reducing conditions. The product was therefore allowed to proceed to biological evaluation.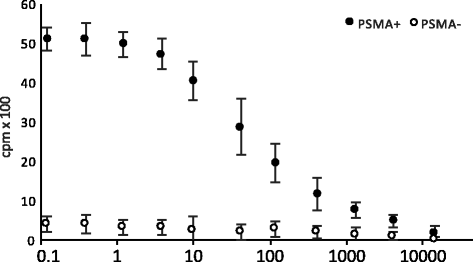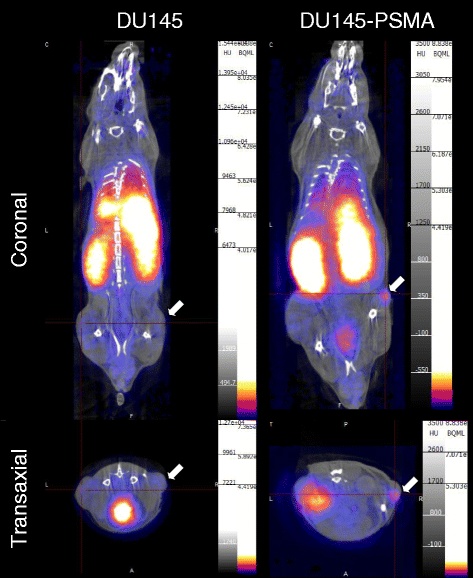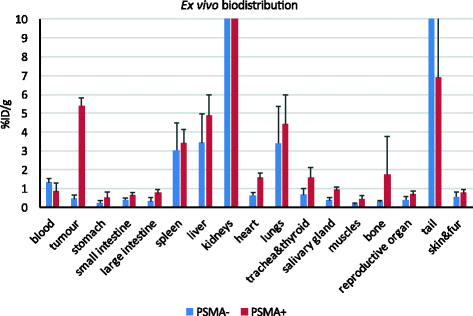 68Ga-THP-mal-J591c-scFv was shown by gel electrophoresis to be stable in human serum against transchelation by serum proteins (notably transferrin as previously established [26]) for periods longer than likely PET scanning times for gallium-68 tracers. A competitive binding study using DU145-PSMA cells (with non-PSMA-expressing DU145 cells as a control), and tracer level 68Ga-THP-mal-J591-scFv as a probe, gave an IC50 value of 31.5 nM for J591c-scFv, confirming that J591c-scFv has a suitable affinity for PSMA to serve as the basis of a PSMA in vivo imaging agent and that the labelled conjugate 68Ga-THP-mal-J591c-scFv shows specific, saturable binding to the PSMA-expressing cells.
When injected intravenously into SCID mice and imaged over 4 h by small-animal PET/CT, 68Ga-THP-mal-J591c-scFv showed rapid clearance from the body via urinary excretion. Highest levels were retained in the kidneys and significant but lower levels in the liver and spleen. Accumulation in the DU145-PSMA variant was visible on the scans and was at least 10-fold higher (5.4%ID/g) than that in the non-PSMA-expressing tumour. In both types of tumour, peak accumulation occurred 60–90 min after injection. The high, PSMA-dependant tumour uptake and the early attainment of high tumour to background ratio suggest that 68Ga-THP-mal-J591c-scFv can be used as a tracer for PET imaging of PSMA expression in PCa. Despite binding to PSMA by a different mechanism, when measured in the same cell line (DU145-PMSA), the affinity of 68Ga-THP-mal-J591c-scFv for PSMA is comparable to that of 68Ga-HBED-CC-PSMA and 68Ga-DOTA-PSMA [15], which are both examples of the new generation of small molecule-based tracers, used clinically for prostate cancer imaging, and which bind to the enzymatically active peptidase site of PSMA [3, 14]. Its in vivo uptake in the DU145-PSMA tumour and kidneys is similar to that of 68Ga-PSMA-HBED-CC and 68Ga-THP-PSMA in the same tumour model [15]. However, its uptake in the liver is much higher, and overall, it has no advantage as an alternative to these tracers.
Conclusions
We have shown that the THP bifunctional chelator is potentially a solution to the problem that labelling of proteins with gallium-68 typically entails harsh conditions such as high temperature and acidic pH, as well as post-labelling purification, thus opening the door to kit-based protein labelling with gallium-68. We have produced an scFv variant of the anti-PSMA mAb J591 derivatised with THP that is amenable to simple, rapid, quantitative, one-step room temperature labelling with gallium-68 at neutral pH. The resultant gallium-68 complex shows high affinity for PSMA and can detect PSMA-expressing tumours by PET imaging in vivo.
Declarations
Acknowledgements
We thank Prof John Maher, Dr. Sophie Papa and Dr. Florian Kampmeier, King's College London, for the assistance with production of J591c-scFv and the DU145-PSMA cell line.
Funding
Saima Nawaz was a recipient of a PhD studentship sponsored by Imaging Equipment Limited, Chilcompton, Somerset BA3 4HP. This research was supported by the Centre of Excellence in Medical Engineering funded by the Wellcome Trust and EPSRC (WT088641/Z/09/Z), by the KCL and UCL Comprehensive Cancer Imaging Centre funded by Cancer Research UK and EPSRC in association with the MRC and DoH (England) and by the NIHR Biomedical Research Centre at Guy's and St Thomas' NHS Foundation Trust and King's College London. PET scanning was performed with equipment purchased with a Wellcome Multi-User Equipment Grant. The views expressed are those of the author(s) and not necessarily those of the NHS, the NIHR or the DoH.
Authors' contributions
SN carried out the experiments and prepared the first draft of the manuscript. KS and JKB performed the quantitative image analysis of the PET data. GEDM, PJB and JRB devised and managed the project and revised the manuscript. All authors contributed to the manuscript. All authors read and approved the final manuscript.
Ethics approval
Animal studies were carried out in accordance with national and local regulations under UK Home Office project and personal licences. This article does not contain any studies with human participants performed by any of the authors.
Competing interests
King's College London holds international patents on tris(hydroxypyridinone) chelators. GEDM is an employee of Theragnostics Ltd. The remaining authors declare that they have no competing interests.
Publisher's Note
Springer Nature remains neutral with regard to jurisdictional claims in published maps and institutional affiliations.
Open AccessThis article is distributed under the terms of the Creative Commons Attribution 4.0 International License (http://creativecommons.org/licenses/by/4.0/), which permits unrestricted use, distribution, and reproduction in any medium, provided you give appropriate credit to the original author(s) and the source, provide a link to the Creative Commons license, and indicate if changes were made.
Authors' Affiliations
(1)
Division of Imaging Sciences and Biomedical Engineering, King's College London, St Thomas' Hospital, London, UK
(2)
Department of Nuclear Medicine, Guy's and St Thomas' Hospital, London, UK