Original research

Open Access
A computational pipeline for quantification of pulmonary infections in small animal models using serial PET-CT imaging
Received: 27 March 2013
Accepted: 6 July 2013
Published: 23 July 2013
Abstract
Background
Infectious diseases are the second leading cause of death worldwide. In order to better understand and treat them, an accurate evaluation using multi-modal imaging techniques for anatomical and functional characterizations is needed. For non-invasive imaging techniques such as computed tomography (CT), magnetic resonance imaging (MRI), and positron emission tomography (PET), there have been many engineering improvements that have significantly enhanced the resolution and contrast of the images, but there are still insufficient computational algorithms available for researchers to use when accurately quantifying imaging data from anatomical structures and functional biological processes. Since the development of such tools may potentially translate basic research into the clinic, this study focuses on the development of a quantitative and qualitative image analysis platform that provides a computational radiology perspective for pulmonary infections in small animal models. Specifically, we designed (a) a fast and robust automated and semi-automated image analysis platform and a quantification tool that can facilitate accurate diagnostic measurements of pulmonary lesions as well as volumetric measurements of anatomical structures, and incorporated (b) an image registration pipeline to our proposed framework for volumetric comparison of serial scans. This is an important investigational tool for small animal infectious disease models that can help advance researchers' understanding of infectious diseases.
Methods
We tested the utility of our proposed methodology by using sequentially acquired CT and PET images of rabbit, ferret, and mouse models with respiratory infections of Mycobacterium tuberculosis (TB), H1N1 flu virus, and an aerosolized respiratory pathogen (necrotic TB) for a total of 92, 44, and 24 scans for the respective studies with half of the scans from CT and the other half from PET. Institutional Administrative Panel on Laboratory Animal Care approvals were obtained prior to conducting this research. First, the proposed computational framework registered PET and CT images to provide spatial correspondences between images. Second, the lungs from the CT scans were segmented using an interactive region growing (IRG) segmentation algorithm with mathematical morphology operations to avoid false positive (FP) uptake in PET images. Finally, we segmented significant radiotracer uptake from the PET images in lung regions determined from CT and computed metabolic volumes of the significant uptake. All segmentation processes were compared with expert radiologists' delineations (ground truths). Metabolic and gross volume of lesions were automatically computed with the segmentation processes using PET and CT images, and percentage changes in those volumes over time were calculated. (Continued on next page) (Continued from previous page) Standardized uptake value (SUV) analysis from PET images was conducted as a complementary quantitative metric for disease severity assessment. Thus, severity and extent of pulmonary lesions were examined through both PET and CT images using the aforementioned quantification metrics outputted from the proposed framework.
Results
Each animal study was evaluated within the same subject class, and all steps of the proposed methodology were evaluated separately. We quantified the accuracy of the proposed algorithm with respect to the state-of-the-art segmentation algorithms. For evaluation of the segmentation results, dice similarity coefficient (DSC) as an overlap measure and Haussdorf distance as a shape dissimilarity measure were used. Significant correlations regarding the estimated lesion volumes were obtained both in CT and PET images with respect to the ground truths (R2=0.8922,p<0.01 and R2=0.8664,p<0.01, respectively). The segmentation accuracy (DSC (%)) was 93.4±4.5% for normal lung CT scans and 86.0±7.1% for pathological lung CT scans. Experiments showed excellent agreements (all above 85%) with expert evaluations for both structural and functional imaging modalities. Apart from quantitative analysis of each animal, we also qualitatively showed how metabolic volumes were changing over time by examining serial PET/CT scans. Evaluation of the registration processes was based on precisely defined anatomical landmark points by expert clinicians. An average of 2.66, 3.93, and 2.52 mm errors was found in rabbit, ferret, and mouse data (all within the resolution limits), respectively. Quantitative results obtained from the proposed methodology were visually related to the progress and severity of the pulmonary infections as verified by the participating radiologists. Moreover, we demonstrated that lesions due to the infections were metabolically active and appeared multi-focal in nature, and we observed similar patterns in the CT images as well. Consolidation and ground glass opacity were the main abnormal imaging patterns and consistently appeared in all CT images. We also found that the gross and metabolic lesion volume percentage follow the same trend as the SUV-based evaluation in the longitudinal analysis.
Conclusions
We explored the feasibility of using PET and CT imaging modalities in three distinct small animal models for two diverse pulmonary infections. We concluded from the clinical findings, derived from the proposed computational pipeline, that PET-CT imaging is an invaluable hybrid modality for tracking pulmonary infections longitudinally in small animals and has great potential to become routinely used in clinics. Our proposed methodology showed that automated computed-aided lesion detection and quantification of pulmonary infections in small animal models are efficient and accurate as compared to the clinical standard of manual and semi-automated approaches. Automated analysis of images in pre-clinical applications can increase the efficiency and quality of pre-clinical findings that ultimately inform downstream experimental design in human clinical studies; this innovation will allow researchers and clinicians to more effectively allocate study resources with respect to research demands without compromising accuracy.
Keywords
Quantitative analysisPulmonary infectionsSmall animal modelsPET-CTImage segmentationH1N1Tuberculosis
Background
There has been significant progress in the use of non-invasive imaging technologies in human (clinical) and animal (pre-clinical) research, using positron emission tomography (PET), computed tomography (CT), and magnetic resonance imaging (MRI). In addition to being used in the clinical environment on human patients, such as for diagnosing and tracking disease, CT and MRI have been used extensively in small animal research for visualization of normal and abnormal anatomical structures. On the other hand, PET imaging provides functional imaging of the biologic processes being studied, such as for the measurement of the inflammatory response in the lungs to an infectious disease or for quantifying the severity of a cancerous tumor via the radio-labeled glucose analog, 18F-fluorodeoxyglucose (FDG) [1, 2]. Recently, the use of PET along with CT and MR imaging has been an active research area for small animal studies as well as for human studies, but automated computer-assisted tools for image analysis in small animal models are still scarce due to limited resolution, similar visual appearances between normal and abnormal adjacent tissues, and heterogeneous imaging parameters such as animal positioning, radiotracer dose, and respiratory motion. In particular, automated quantification of functional imaging data in small animal models has been very limited.
Much of the small animal model literature has relied on manual or semi-automated methods for image analysis with qualitative and/or semi-quantitative measurements [3–10]. In these (mostly manual) approaches, investigators need to visually select and then manually draw regions of interest in the images from which they extract quantifiable information. For instance, it was shown in [3] that brain tumors were precisely delineated by using a new triple imaging modality called MRI photoacoustic-Raman nanoparticle, which helped to identify brain tumor margins. This non-invasive process allowed surgeons to remove brain tumors from mice with great accuracy. In [4], lung cancers were studied in mice models, and their subsequent responses to therapy in situ were examined using MRI. The authors presented quantitative and analytical methods to better visualize, understand, and quantify primary and metastatic lung tumors' severity and progression. In another study, [5], genetically engineered mouse models with non-small-cell lung cancer were used to question the molecular complexity of mixed therapeutic response. In [6], the total lung activity of mice with chemically induced lung squamous cell carcinoma was used to measure tumor metabolic activity in lesions using longitudinal PET scans. All of these approaches are highly time-consuming, and thus, reduce the efficiency of the research, in addition to lowering reproducibility and findings.
Robust, accurate, and fast analytical tools for imaging are especially needed for infectious disease research because infected lesions often have a rapid progression over days or weeks with heterogeneous structure (size, shapes, and locations), in addition to being anatomically multi-focal, with asynchronous changes over time. Most of the small animal studies using non-invasive imaging techniques in the literature, including the ones highlighted above, are extensively focused on cancer for measuring neoplasms.
Despite unique clinical challenges in quantification and interpretation of infectious lung diseases, researchers need to develop small animal models of infectious diseases in order to study immunopathogenesis, enhance clinical diagnostic accuracy, and test possible treatment strategies [1, 11, 12]. Like cancer, research focusing on infectious disease models may benefit from current functional and structural non-invasive imaging techniques, too. For example, by using a PET-CT imaging technique, one can non-invasively visualize the quality and quantity of inflammatory cell migration and aggregation, as well as kinetics over time while also obtaining immediate information about disease burden without requiring sacrifices. Primarily, longitudinal imaging studies are invaluable for analysis of infectious disease models and tracking rapid changes in immune response.
In the presented study, we first showed the feasibility of using PET-CT imaging to track pulmonary infections in small animal images. Then, we examined the relationship between the severity and extent of pulmonary infections as assessed by PET-CT imaging longitudinally. For this purpose, we created a novel computational pipeline for reliable and accurate quantification of small animal models with respiratory infections. Our study used an automated method for measuring areas of abnormal uptake on PET images and an interactive method for analyzing corresponding anatomical structures on CT images. In addition, we longitudinally assessed lesion volumes qualitatively and quantitatively in order to increase the efficiency and quality of molecular imaging studies. This proposed methodology aims to transform imaging data into a common platform so that clinicians can quantify, diagnose, and characterize disease progression readily.
Fundamentals of PET-CT imaging
To obtain metabolic/functional information of tissues through PET scans, molecular imaging probes, such as 18F-FDG and NaF, are used to interrogate specific targets such as cell surface receptors, enzymes, and structural proteins [2]. Given the low resolution in PET [13], the superior anatomic localization of a lesion is achieved by fusing the PET images to CT images such that the lesions identified on PET are then anatomically localized by analyzing the corresponding cross-sectional CT slices. To obtain anatomical and physiological information from tissues and organs, CT is usually used in small animal studies since it is the gold standard for clinical practice, particularly for lung studies [3, 4]. This dual-imaging modality approach provides a better understanding of the underlying disease by fusing both modalities into a single view.
What to measure in CT
Structural imaging methodologies (i.e., CT and MRI) provide detailed knowledge of anatomical structures such as their shape, numbers, dimensions, surfaces, geometric arrangements, locations, and relative positioning. Among these morphological measurements, the total lung volume and the fraction of lungs occupied by disease are common measurements used by clinicians and researchers to evaluate respiratory pathology. Abnormal CT imaging patterns (volume occupied by gas, tissue, and total number of alveoli) are also conventional measures frequently used by clinicians to evaluate disease state, severity, and progression of respiratory disorders, however, accurate, robust, and fast computation of these volumetric measurements require computer-aided lesion detection, image segmentation, and automatic quantification methods. Due to significant limitations in imaging (i.e., low specificity and similar appearances between normal and abnormal tissue), manual processing and computing the aforementioned metrics are still too time-consuming and difficult.
What to measure in PET
PET imaging, as a functional imaging methodology, provides a way for making in vivo measurements of specific biochemical reactions [5]. Conventionally, the standardized uptake value (SUV), a quantitative measure of tissue activity, is widely used in assessing PET images. SUV can be used either voxel-wise or over a region/volume, and particularly in the latter case, precise identification of the region of interest (delineation) plays a vital role in diagnostic decision systems. In addition, similar to the morphological metrics used in structural imaging methodologies, volume and area of activity regions, as well as its SUV-related indexes, are used to evaluate disease extent, characterization, and severity. In other words, the precise volume/surface information of uptake regions is needed due to two reasons: (a) total volume/surface occupied by radiotracer activity can be used independently to compare the fraction of the lung affected by the infection to the fraction of the abnormal anatomical structure having activity, because only a small percentage of the abnormal tissues (i.e., consolidation) may have high metabolic activity, depending on the disease pathology, and (b) the accurate computation of SUV-related evaluation metrics requires precise delineation of uptake regions from PET scans. Even small errors in delineation can distort SUV calculations by changing the margin of the uptake regions [6], and this can eventually affect the characterization of the disease, evaluation of response to therapy, and the therapy planning.
Structural and functional imaging patterns pertaining to pulmonary infections
Structural and functional abnormal imaging patterns are often observed when lungs are infected. During a CT examination, the infected lungs may include the following abnormal imaging patterns: ground glass opacities (GGO), tree-in-bud (TIB) nodularities, reticular opacities, random distribution of nodules, and consolidations [
4
]. Though these visual patterns are not specific for one pathogen, the proportion of lung volume exhibiting these formations can provide further insights into the severity of the infection [
10
]. On the other hand, a PET examination shows increased radiotracer uptake in regions of inflammation caused by infection over the background levels of uptake, in the surrounding normal tissues. Although SUV measurements are not specific to one type of infection and cannot reliably distinguish between infection, neoplasm, or inflammation, the focally increased areas of FDG radiotracer activity represent heightened cellular glucose metabolism which can be serially assessed in order to investigate the progression of a disease state. In our small animal infectious disease models, we mostly observed GGO and consolidations (shown in Figure
1
) on CT, with corresponding areas of abnormal radiotracer activity on PET.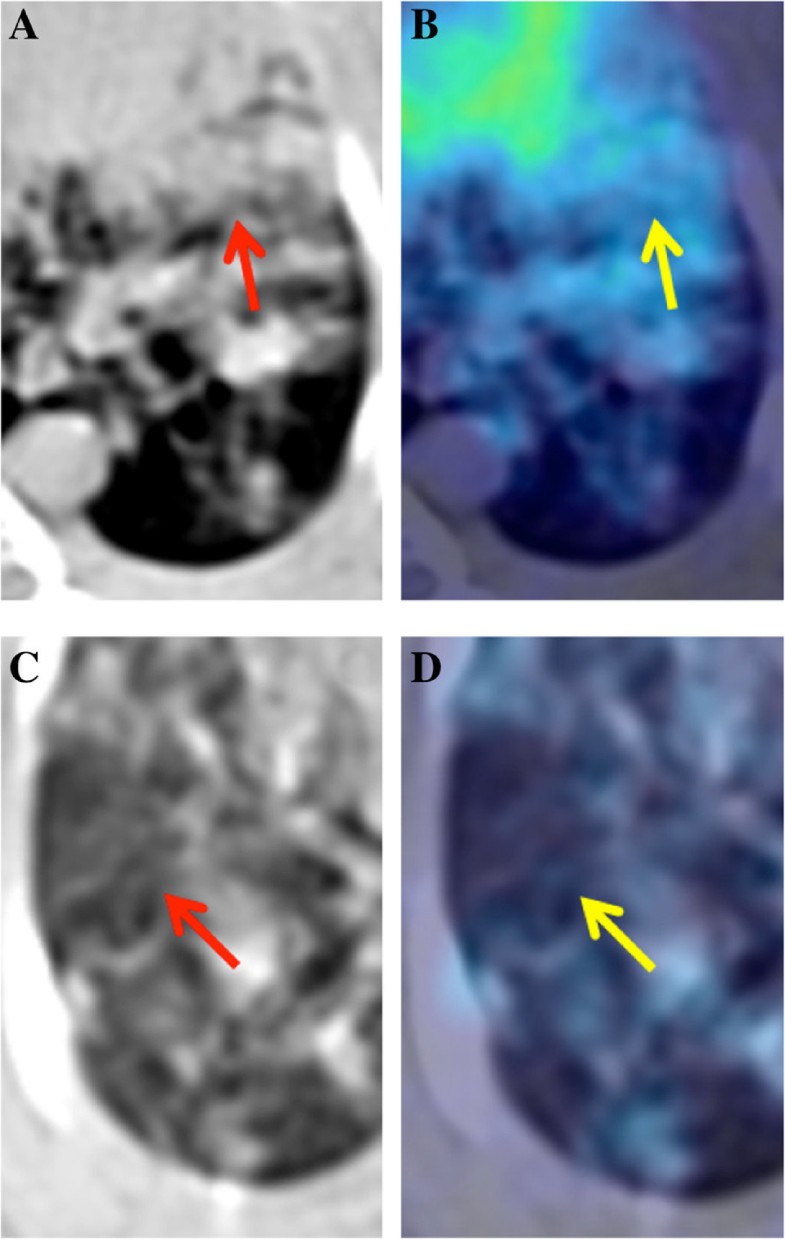 Methods
PET-CT imaging
The Administrative Panel on Laboratory Animal Care approvals were obtained from each participating institute prior to conducting this research. Internationally recognized standard guidelines were followed as complied with laboratory animal care approvals.
Our study included rabbits, ferrets, and mice, which are frequently used small animals in infectious disease research. Following baseline scans, ten rabbits (New Zealand White female) were infected with an aerosolized respiratory pathogen (
Mycobacterium tuberculosis
, H37Rv strain) in a Madison chamber and imaged every 5 weeks post-infection for 38 weeks or until euthanized for necropsy. For PET imaging, the rabbits were injected with 1 to 2 mCi of
18
F-FDG PET radiotracer, via the marginal ear vein, and then imaged 45 min post-injection for a period of 30 min. CT and PET imaging were performed without respiratory gating on the NeuroLogica CereTom (NeuroLogica Corporation, Danvers, MA, USA) and the Philips Mosaic HP scanner (Philips Medical Systems, Eindhoven, The Netherlands), respectively, with specifications as reported in Tables
1
and
2
. A total of 92 images (46 PET and 46 CT scans) were used for this rabbit study.
Table 1
Imaging parameters for ferret, rabbit, and mouse studies (CT scan)
| Animal | CT scanner | Voxel | In-plane | Current (μ A), | Slice |
| --- | --- | --- | --- | --- | --- |
| | | size (mm 3) | resolution | voltage (kVp) | thickness (mm) |
| Rabbit | NeuroLogica CereTom (CT) | 0.29 × 0.29 × 0.63 | 512 × 512 | 5,000, 120 | 1.25 |
| Ferret | Siemens Inveron | 0.20 × 0.20 × 0.20 | 384 × 384 | 500, 80 | 0.21 |
| | Trimodal (PET/CT) | | | | |
| Mouse | Mediso Bioscan Inc (CT) | 0.20 × 0.20 × 0.20 | 176 ×176 | 1,500, 45 | 0.20 |
| | Trimodal (PET/CT) | | | | |
Table 2
Imaging parameters for ferret, rabbit, and mouse studies (PET scan)
| Animal | PET scanner | Voxel | In-plane | Slice | Radiotracer |
| --- | --- | --- | --- | --- | --- |
| | | Size (mm 3) | resolution | thickness (mm) | |
| Rabbit | Philips Mosaic HP (PET) | 1.0 × 1.0 × 1.0 | 128 ×128 | 1.0 | 1.2 mCi 18F-FDG |
| Ferret | Siemens Inveron | 0.78 × 0.78 × 0.80 | 128 × 128 | 0.8 | 2 mCi 18F-FDG |
| | Trimodal (PET/CT) | | | | |
| Mouse | Philips Mosaic HP (PET) | 0.20 × 0.20 × 0.20 | 128 ×128 | 1.0 | 0.2 mCi 18F-FDG |
For the ferret study, following baseline scans pre-infection, 12 ferrets (Mustela putorius furo) were inoculated intra-nasally with a respiratory pathogen (the H1N1 influenza virus) and then subsequently imaged on days 1, 2, 3, and 6 post-infection or until euthanized for histopathology analyses. The ferrets were injected intra-peritoneally with 2 mCi of 18F-FDG and imaged 60 to 90 min post-injection. All PET and CT imaging were performed with respiratory gating on a Siemens Inveon Trimodal scanner (Siemens AG, Munich, Germany) (Tables 1 and 2). A total of 44 images (22 PET and 22 CT scans) were used for the ferret study. Although respiratory gating was used in the ferret images, ungated CT could also be used. As reported in [14], the effects of inspiration and expiration can be ignored in small animal CT scans of ferrets due to similar quality of ungated and gated CT scans.
For the mouse study, after baseline scans, three mice were infected with an aerosolized respiratory pathogen (necrotic TB) in a Glas-Col inhalation exposure chamber (Glas-Col, Terre Haute, IN, USA) and subsequently imaged on weeks 6, 10, and 14 post-infection or until euthanized for histopathology analysis. Mice were injected with approximately 0.200 mCi of 18F-FDG, via tail vein, and then imaged 45 min post-injection. PET images were collected using a Philips Mosaic HP scanner, and CT images were acquired using a Bioscan Inc Mediso SPECT/CT scanner (Bioscan Inc, Paris, France) (Tables 1 and 2). All images were acquired without respiratory gating. Although respiratory gating may improve image quality with less noise and motion artifacts, due to well-known effects of breathing cycle on CT imaging of mice, repeated in vivo-gated CT scans are recommended only not more frequently than weekly intervals [15]. However, our model was not optimized for that convention (i.e., having 4-week intervals between scans), therefore, the free-breathing mode was selected as complied with the standard imaging techniques for similar conditions in other studies. A total of 24 images (12 PET and 12 CT scans) were used for the mouse study. Details of each small animal species' CT and PET imaging parameters, as well as scanner and reconstructed image properties, can be found in Tables 1 and 2.
Small animals were imaged in different scanners, at different institutions, with varying scanner parameters (i.e., respiratory gating, slice thickness, resolution, etc.), therefore, our study constituted a good set of images for verifying the 'robustness' of the proposed computational platform, in terms of handling varying conditions, as well as different animal sizes and anatomies.
Proposed computational framework
The proposed computational framework for longitudinal and quantitative analysis of lung abnormalities is illustrated in Figure 2. The following are the steps involved in the computational framework for longitudinal and quantitative analysis:
Step 1. PET and CT images were acquired from the scanner.
Step 2. PET and CT images were aligned into a common anatomical reference space in order to provide one-to-one voxel correspondences between anatomical and functional images (if the images were not from the same scanner). See Additional file 1 for technical details.
Step 3. The lungs were segmented from CT scans using the proposed interactive region growing (IRG) image segmentation method. Since measurements within the lung volumes play a significant role in identifying the nature of lung disorders, it is desirable to constrain the analysis of PET uptake regions.
Step 4. Mathematical morphology (smoothing by the erosion, prior to the space multiplication of two images) was conducted between the segmented lung volumes from CT scans and corresponding PET images in order to avoid FP uptake from nearby structures of the lungs. This may occasionally appear in the border of the lungs due to the resolution difference of PET and CT as well as the interpolation operator. Resultant PET images, therefore, only show radiotracer uptake regions within the lung.
Step 5.
Significant radiotracer uptake regions were isolated from background noise and tissue through segmentation. To do this, we segmented radiotracer uptake regions from PET
M
images using adaptive thresholding, following clinical conventions in SUV computations as well as boundary uncertainty information from fuzzy c-means algorithm (FCM). All of these steps are explained in the following subsections in details.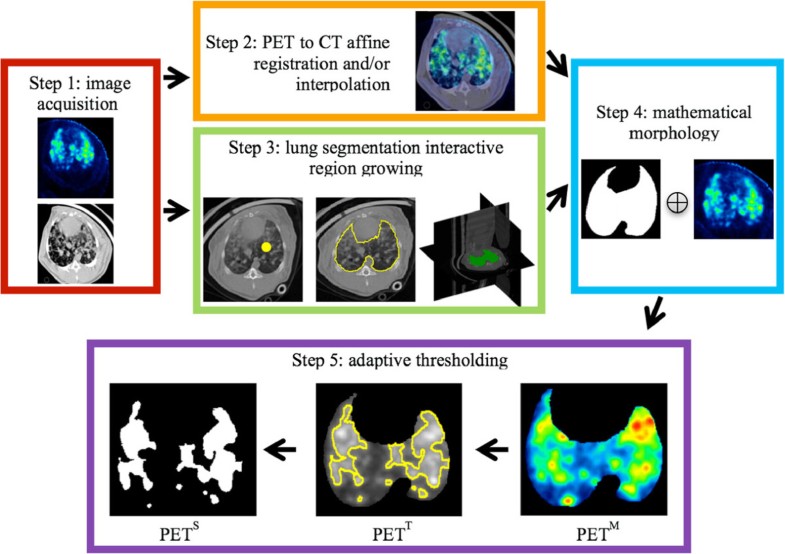 Results
To assess the efficacy and utility of our segmentation methods (in CT and PET images) quantitatively, we used accuracy measurements which are related to how well segmentation results compare with the true delineation of objects. Ground truths of delineation for the objects were obtained by expert radiologists' annotations. We also considered efficiency measurements for the segmentation evaluation, where efficiency pertains to the practical viability of the method which is determined by the amount of time required for the computations to provide the user the help needed during segmentation.
Discussion
Our study presents a computational platform for automated and interactive methods for measuring areas of abnormal uptake on PET and corresponding anatomical structures on CT, with longitudinal assessment of lesion volumes, in order to increase the efficiency and quality of quantitative imaging studies. Although some of the methodologies presented in this manuscript such as segmentation from CT scans, PET segmentation, and co-registration aspects of the image processing tasks have been established more or less in the literature, a computational pipeline that takes into account the unique challenges of PET-CT imaging, particularly for small animal models and pulmonary infections, has not previously been explored. Considering (a) the exploration of the feasibility of PET-CT multi-modality imaging in small animals and (b) the unique challenges of pulmonary infections (i.e., multi-focal uptake in PET, diffusive abnormal imaging patterns in CT, the challenge of segmenting pathological lung regions, etc.), to the best of our knowledge, our study is the first one taking into account all these difficulties and propose a reliable, fast, and accurate computational platform to be used in pre-clinical and clinical studies.
For this study, the FDG radiotracer was used because it is the most commonly used agent for molecular imaging, but the method can also be applied to any PET tracer. In addition to the CT anatomical imaging, our proposed computational framework can also be used with MRI data fused with PET imaging, therefore, multi-modal anatomical images with functional correspondences can readily be quantified within our system. Moreover, the study presented herein focuses on small animals - rabbits, ferrets, and mice. Given the need for increasing the efficiency, speed, and quality of molecular imaging in pre-clinical research, this application of automated quantitative imaging studies for small animal models is warranted.
Our study applies to infectious disease in particular because this disease category has some unique challenges such as multi-focal heterogeneous lesions with rapid progression, necessitating more efficient methods for quantifying molecular imaging data. Given the accuracy and efficiency of our presented results, this methodology can also be applied to measuring tumor volumes in oncologic research, because diffuse PET uptake patterns and intensities caused by inflammation and infections can have very similar characteristics compared to those caused by cancer within the thoracic cavity [1]. Indeed, the segmentation of diffuse patterns (both from CT and PET) is much more challenging compared to the segmentation of solid tumors, hence, our methods can readily be used within different frameworks concerning cancer-related problems. Our computational platform can also provide automated tumor volume measurement using the same approach as the demonstrated measurement of abnormal PET-CT findings in infection to provide serial volumetric data and longitudinal changes in SUV intensity.
In this paper, infectious disease progression was analyzed and reported for small animals, however, the ultimate aim within the scope of this research is to find and understand the progression of infectious diseases in human subjects as well. To the best of our knowledge, there is no systematic study exploring this longitudinal phenomena in human clinical trials yet. Based on our previous research [44–46] and some other works showing the imaging findings of pulmonary infections, there are certain similarities in image analysis of pre-clinical and clinical subjects. Consolidations and GGOs are the two main imaging patterns from CT images which are observed both in human subjects and small animals. Similarly, SUV analysis of lesions detected from PET images is conducted in the same way for human subjects and small animals [14]. On the other hand, we can argue that the spectrum of the observed imaging patterns from CT images will be wider than the observed imaging patterns of small animals. For instance, in parainfluenza and H1N1 infections in human subjects [44–46], we observed not only GGO and consolidations but also tree-in-bud, nodules, pleural effusions, and interstitial thickening. Therefore, additional individual analysis of how those patterns change longitudinally (i.e., shape and volume) could bring certain additional insights into the exploration of pulmonary infection dynamics in human subjects. However, these analyses require separate CAD systems for each abnormal imaging pattern pertaining to pulmonary infections.
Future studies will aim to correlate the automated algorithm's performance with other parameters of respiratory disease such as histopathology, inflammatory cell counts, and viral/bacterial titers. For this purpose, we are currently developing novel methods for automatic airway extraction and quantification as well as simultaneous co-segmentation and co-evaluation of CT, MRI, and PET multi-modality images [28, 47].
Conclusions
Experimental results showed that automated computer-detection of lesions in pulmonary infections through our proposed computational pipeline is efficient and accurate relative to the manual approaches and thereby increases reproducibility of automated quantification of disease immunopathology in small animal models. The immense importance of infectious disease imaging in small animal models is based on the fundamental necessity to study disease pathogenesis and host immune response as well as to assess therapeutic measures such as medications and vaccines, on a time scale basis on the same subject(s). Measuring disease follow-up is especially important because the evaluation of the natural progression of untreated disease as compared to the regression of treated disease requires accurate serial quantification over time.
Our proposed computational platform is novel and unique, which is suited well for analysis and quantification of pulmonary infections in pre-clinical and clinical research questions. We demonstrated our computational framework's feasibility and robustness using longitudinal PET and CT images obtained from multiple small animals and compared its performance to expert delineations.We concluded from the clinical findings derived from the proposed computational pipeline that serial PET-CT imaging is an invaluable hybrid modality for tracking pulmonary infections in small animals and has great potential to become the state-of-the-art imaging tool in routine clinics for pulmonary infections. In a broader perspective, we hope that the methods and experiments presented here will support further exploration of infectious diseases in different small animal models.
Abbreviations
CT:

Computed tomography
DSC:

Dice similarity coefficient
FCM:

Fuzzy c-means
FDG:

Fluorodeoxyglucose
FLAB:

Fuzzy locally adaptive Bayesian
FP:

False positive
H1N1:

Swine flu
HD:

Haussdorf distance
IRG:

Interactive region growing
ITM:

Iterative thresholding method
MRI:

Magnetic resonance imaging
PET:

Positron emission tomography
RG:

Region growing
STD:

Standard deviation
SUV:

Standardized uptake value
TB:

Tuberculosis.
Declarations
Acknowledgements
This study is supported by the Center for Infectious Disease Imaging (CIDI) and Intramural Research Program of the National Institutes of Health. Dr Jain acknowledges the NIH Director's New Inventor Award (OD006492). The rabbit infection study is funded by HHMI, NIAD R01AI079590, and R01A1035272.
Authors' Affiliations
(1)
Center for Infectious Disease Imaging, National Institutes of Health, Bethesda, USA
(2)
Radiology and Imaging Sciences, National Institutes of Health, Bethesda, USA
(3)
Center for Tuberculosis Research, Johns Hopkins University School of Medicine, Baltimore, USA
(4)
KwaZulu-Natal Research Institute for TB and HIV, Durban, South Africa
(5)
Howard Hughes Medical Institute, Chevy Chase, USA
(6)
Department of Microbiology and Immunology, University of Louisville, Louisville, USA
(7)
The Center for Predictive Medicine for Biodefense and Emerging Infectious Diseases, University of Louisville, Louisville, USA
(8)
Department of Medicine, Center for Infection and Inflammation Imaging Research, Johns Hopkins University School of Medicine, Baltimore, USA
(9)
Department of Pediatrics, Johns Hopkins University School of Medicine, Baltimore, USA
Copyright
© Bagci et al.; licensee Springer. 2013
This article is published under license to BioMed Central Ltd. This is an Open Access article distributed under the terms of the Creative Commons Attribution License(http://creativecommons.org/licenses/by/2.0), which permits unrestricted use, distribution, and reproduction in any medium, provided the original work is properly cited.