Analysis of progress and challenges for various patterns of c-MET-targeted molecular imaging: a systematic review
Received: 24 December 2016
Accepted: 17 April 2017
Published: 8 May 2017
Abstract
Background
Mesenchymal–epithelial transition factor also named c-MET is a receptor tyrosine kinase for the hepatocyte growth factor that plays a pivotal role in tumorigenesis. c-MET-targeted therapies have been tested in preclinical models and patients, with significant benefits for cancer treatment. In recent years, many studies have shown that the expression level and activation status of c-MET are closely correlated to c-MET-targeted therapy response and clinical prognosis, thus highlighting the importance of evaluating the c-MET status during and prior to targeted therapy. Molecular imaging allows the monitoring of abnormal alterations of c-MET in real time and in vivo.
Results
In this review, we initially summarize the recent advances in c-MET-targeted molecular imaging, with a special focus on the development of imaging agents ranging in size from monoclonal antibody to small molecule. The aim of this review is to report the preclinical results and clinical application of all molecular imaging studies completed until now for in vivo detection of c-MET in cancer, in order to be beneficial to development of molecular probe and the combination of molecular imaging technologies for in vivo evaluation of c-MET. Various molecular probe targeted to c-MET possesses distinctive advantages and disadvantages. For example, antibody-based probes have high binding affinity but with long metabolic cycle as well as remarkable immunogenicity.
Conclusions
Although studies for c-MET-targeted molecular imaging have made many important advances, most of imaging agents specifically target to extracellular area of c-MET receptor; however, it is difficult to reflect entirely activation of c-MET. Therefore, small molecule probes based on tyrosine kinase inhibitors, which could target to intracellular area of c-MET without any immunogenicity, should be paid more attention.
Keywords
Molecular imagingMalignancyc-METTargeted molecular probeEffectiveness evaluation
Background
Clinical relevance of the HGF/c-MET signaling pathway: structure, function, and dysregulation
Mesenchymal–epithelial transition factor (c-MET) is a receptor tyrosine kinase (RTK) naturally activated by the binding of hepatocyte growth factor (HGF), and then regulates many essential cellular processes including cell proliferation, motility, invasion, angiogenesis, and apoptosis. The c-MET oncogene is located on chromosome 7q21-31 and was initially identified in an immortalized osteosarcoma cell line by Cooper et al. in the1980s [1]. The c-MET receptor is located in the cell surface and is expressed in epithelial cells of many organs including the liver during both embryogenesis and adulthood [2].
The mature form of the c-MET receptor is a disulfide-linked heterodimer consisting of a 50-kDa extracellular α-chain and a transmembrane 140-kDa β-chain. Both the α chain and the first 212 residues of the β chain constitute the Sema domain, which has an HGF-binding site in the extracellular region [3].
HGF [4, 5], also known as scatter factor [6], is the only endogenous ligand for c-MET [7]. HGF is a 90-kD multidomain glycoprotein that is similar to plasminogen, a circulating proenzyme. HGF is cleaved by proteases to form, similarly to its receptor, α/β heterodimers linked by a disulfide bond, thereby converting it into the active form [8]. The NH2-terminal portion of the HGF α chain contains the high affinity c-MET binding domain, and the β chain is responsible for activating c-MET receptor via a direct interaction.
After HGF-binding, the c-MET receptor undergoes homodimerization and phosphorylation at tyrosines 1234 and 1235 and subsequently at tyrosines 1349 and 1356 in the carboxy-terminal tail [9]. After phosphorylation, these tyrosines recruit GRB2 (adaptor protein growth factor receptor bound protein 2) [10], SHC (Srchomology-2-containing) [11] and CRK (v-crk sarcoma virus CT10 oncogene homolog), CRKL [12, 13], PI3K (the effector molecule phosphatidylinositol 3-kinase), PLCγ (phospholipase Cγ), and a series of signaling effectors that have been described in detail in previous reviews [14–17]. Similarly to many RTKs, components of the c-MET downstream signaling pathways such as MAPK will translocate into the nucleus and bind transcription factors to regulate the transcription of specific genes involved in a variety of cellular processes including cell proliferation, motility, and cell cycle progression [10, 18]. Other major downstream axes of c-MET signaling include the PI3K/Akt and STAT/JNK signaling axes, responsible for cell survival and transformation, respectively [13, 19].
It is known that dysregulation of many RTKs, including c-MET, contributes to tumorigenesis [20]. Indeed, c-MET is activated in a variety of cancers, such as renal, ovarian, and lung. [8, 21]. Aberrant activation of c-MET results in proliferation, invasion, angiogenesis, and inhibition of apoptosis [19, 22, 23]. Conversely, downregulation of MET expression in tumor cells can lower their tumorigenic potential [24]. Studies indicated that c-MET in cancer is activated through both ligand-dependent autocrine or paracrine mechanisms and ligand-independent mechanisms including gene amplification, gene translocation, activating mutations, or transcriptional upregulation of the c-MET protein [25, 26]. Furthermore, in some studies, a synergistic effect for phosphorylation between c-MET and epidermal growth factor receptor (EGFR), HER2, HER3, RAS, RON, or PDGFR was found in some cancer cells or transfected cancer cells, and these studies might have important significance for combination therapy in many cancers [27–32].
c-MET is an attractive drug target in cancer therapy, and various targeted drugs have been used in multiple clinical trials as cancer therapeutic agents [33]. Furthermore, combined therapy targeted to c-MET and EGFR (onartuzumab + erlotinib) has significantly reduced resistance to treatment in preclinical studies when compared to erlotinib alone, but failed to get consistent result in a clinical trial [34–36]. Maybe more comprehensive clinical setting needs to be performed to confirm the prospective viewpoint.
Molecular imaging of c-MET
As c-MET is an active participant in tumorigenesis and the malignant progress, the assessment of c-MET activation status in real time could be valuable for diagnosis and monitoring of responses to targeted therapies in cancer in the future. While c-MET detection by immunohistochemistry or fluorescent in situ hybridization (FISH) is currently the standard diagnostic procedure, these methods require repeated biopsies that can be painful for the patient. Thus, the development of more effective noninvasive detection methods for accessing c-MET expression and activation is needed.
Molecular imaging is a noninvasive method that can provide accurate information in vivo and in real time, and its application for detecting c-MET activation could represent a breakthrough in cancer diagnosis. Various c-MET-targeted tracers have been developed based on multiple molecular modalities, such as antibody, peptide, small protein, genetically encoded protein, and small molecule tyrosine kinase inhibitor (TKI). These tracers also have been further evaluated in preclinical studies or clinical setting. Recent studies acquired significant progress toward the development of molecular imaging probes for monitoring c-MET activation, but the imaging performance of these probes remains a critical issue. Here, we review and discuss these studies (Fig.
1
, Table
1
).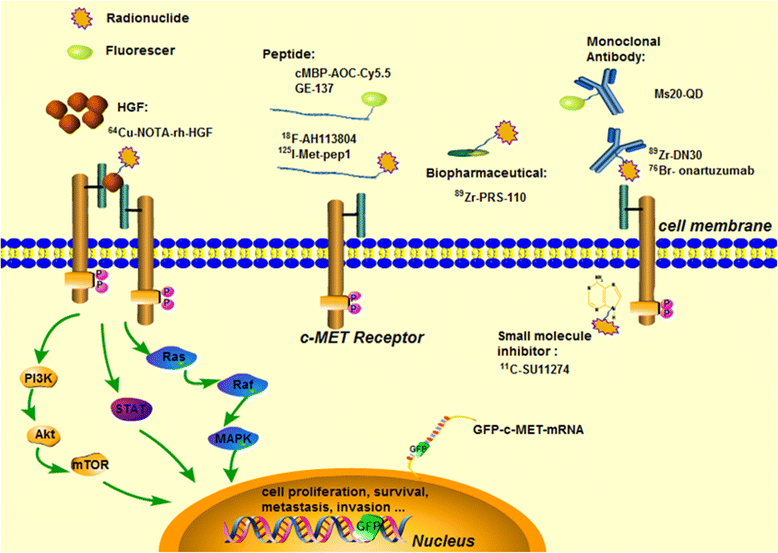 Table 1
Representative molecular imaging agents developed for c-MET imaging in cancer
Name

Nature

Molecular weight (kDa)

Targeted area

Tumor model

Tumor uptake

T/C

Imaging technique

Time point

Clin

64Cu-NOTA-rh-HGF

rh-ligand

~90

Extracellular

U87MG

6.8 ± 1.8%ID/g

T/M =13.5 ± 6.1

PET

9 h p.i.

No

125I-mAb

mAb

~150

Extracellular

S114

–

T/TB = 0.37

Gamma camera

3 days p.i.

No

125I-Met3

mAb

~150

Extracellular

S114, SK-LMS-1/HGF

18.6 ± 2.1%EIA,

7.2 ± 2.2%EIA

T/TB = 0.32 ± 0.13, T/TB = 0.168 ± 0.076

Gamma camera

3 days p.i., 6 days p.i.

No

125I-Met5

mAb

~150

Extracellular

SK-LMS-1/HGF

13.3 ± 7.6%EIA,

T/TB = 0.146 ± 0.097

Gamma camera

1 day p.i.

No

125I-hFab-Met-1

Fab fragment

~60

Extracellular

SK-LMS-1/HGF

6%EIA

–

Gamma camera

5 h p.i.

No

125I-MET4

mAb

~150

Extracellular

SK-LMS-1/HGF

–

–

Gamma camera

3 days p.i.

No

89Zr-DN30

mAb

~150

Extracellular

GTL-16

19.6 ± 3.3%ID/g

T/M = 17.5

PET

3 days p.i

No

89Zr-df-onartuzumab

mAb

~99

Extracellular

MKN-45

23%ID/g

T/M = 27

PET

3 days p.i

No

89Zr-DFO-H2cys-diabody

scFv

~55

Extracellular

Hcc827-GR6

3.4 ± 0.3%ID/g

T/M =27 ± 14

PET

44 h p.i.

No

Ms20-QD

scFv

~25

Extracellular

H1993

–

T/Tn = 4.3

NIRfluorescence

24 h p.i.

No

anti-MET-Gd-DTPA-albumin

mAb

~150

Extracellular

C6

–

SIC(T/Tn) ≈ 5

MRI

3 h p.i.

No

SPIO-anti-c-MET

PcAb

~150

Extracellular

CDAA-HCC

–

SIC(T/Tn) ≈ 2

MRI

1.5 h p.i.

No

125I-Met-pep1

Peptide

~1.5

Extracellular

SK-LMS-1/HGF

5%EIA,

–

Gamma camera

4 h p.i.

No

125I-cMBP-GGG

Peptide

~1.9

Extracellular

U87MG

7.05 ± 1.2%ID/g

T/Bl = 2.94

SPECT

4 h p.i.

No

cMBP-AOC-Cy5.5

Peptide

~2.8

Extracellular

U87MG

–

T/M =33.711 ± 3.34

NIRfluorescence

5 h p.i.

No

GE-137

Peptide

~4.2

Extracellular

SKOv3

–

T/Ba = 1.6

NIRfluorescence

3 h p.i.

Yes

18F-AH113804

Peptide

~3.2

Extracellular

HCC1954

1.5 ± 0.2%ID/ml

T/M ≈ 2

PET

1 h p.i.

No

99mTc-AH113018

Peptide

~3.2

Extracellular

MKN-45

10.1 ± 1.5%ID/g

T/M =55.2 ± 13.4

SPECT

1.5 h p.i.

No

89Zr-PRS-110

s-protein

57

Extracellular

H441

7.5 ± 3.4%ID/g

T:M = 29

PET

48 h p.i.

No

11C- SU11274

smTKI

~0.6

Intracellular

H1975

SUV = 0.45

T/TN = 2.6

PET

1.3 h p.i.

No
Review
Various patterns of molecular probes targeted to c-MET
Conclusions
In this review, we have provided a brief historical overview of the development of c-MET-targeted imaging agents, from mAbs to small molecules. Evidently, each substrate, whether it is an endogenous ligand, antibody, peptide, or small molecule, has unique advantages and limitations. While radiolabeled mAbs such as 89Zr- df-onartuzumab have shown promise in preclinical studies, smaller structures like anticalin and peptides also demonstrated similarly desirable in vivo properties, making them compatible for radiolabeling with the more popular radionuclides 18F or 99mTc, which have shorter half-lives and have been extensively used in clinical applications.
In general, various types of molecular probe have distinctive advantages and disadvantages. For example, antibody-based probes have high binding affinity but with long metabolic cycle and immunogenicity. And small molecule probes have advantages in size, pharmacokinetics, and security, but are inadequate for delayed imaging after injection, due to fast clearance. Regarding the imaging technique, nuclear imaging (e.g., PET, SPECT) are useful for imaging whole body and deep viscera, whereas optical imaging (e.g., fluorescence, bioluminescence) is mainly applied in detecting superficial organs and endoscopic procedures, due to weak penetrability of fluorescence signal.
In our opinion, after clinical application of GE-137 with encouraging results for detection of malignant polyps, the field of c-MET-targeted molecular imaging will hopefully become established in the clinic with many expected research results in preclinical studies. Other strategies which might be relevant for translation into the clinic are antibody (fragment) tracers, as companion diagnostics for their parental antibody therapies [77]. Although studies for c-MET-targeted molecular imaging have made many important advances, most of imaging agents specifically target to extracellular area of c-MET, so it can only reflect overexpression of c-MET. Nevertheless, imaging agents based on small molecule c-MET-TKI possess intracellular binding site as well as many advantages, thus should be paid more attention.
c-MET-targeted molecular imaging makes it possible to visualize the abnormal alteration of c-MET expression in vivo and in real time, with the potential applications such as patient screening for c-MET-targeted therapeutics, monitoring therapeutic effects, evaluating prognosis, and analysis for resistance mechanism. Although the optimization of c-MET-targeted molecular imaging for clinical purposes still faces many challenges, the recent advances in the field, together with its potential clinical benefits, are highly encouraging for future research.
Abbreviations
%EIA:

Percentage of estimated injected activity
BOLD:

Blood oxygenation level dependent
CDAA:

Choline-deficient l-amino acid
cMBP:

c-MET binding peptide
c-MET:

Mesenchymal–epithelial transition factor
CSAA:

Choline-sufficient, l-amino acid
EGFR:

Epidermal growth factor receptor
ELISA:

Enzyme-linked immuno sorbent assay
Fab:

Antigen-binding fragment
FACS:

Fluorescence-activated cell sorter
FISH:

Fluorescent in situ hybridization
GFP:

Green fluorescent protein
HER2:

Human epidermalgrowth factor receptor-2
HER3:

Human epidermalgrowth factor receptor-3
HGF:

Hepatocyte growth factor
IgG:

Immunoglobulin G
mAbs:

Monoclonal antibodies
MAPK:

Mitogen-activated protein kinase
MRI:

Magnetic resonance imaging
NSCLC:

Non-small-cell lung cancer
NSF:

Nephrogenic systemic fibrosis
PcAb:

Polyclonal antibody
PDGFR:

Platelet-derived growth factor receptor
PEG:

Polyethyleneglycol
PET:

Positron emission tomography
QD:

Quantum dot
RAS:

Rat sarcoma
ROI:

Region of interest
RON:

Recepteur d'origine nantais
RTK:

Receptor tyrosine kinase
RT-PCR:

Reverse transcription-polymerase chain reaction
SPECT:

Single photon emission computed tomography
SPIO:

Super paramagnetic iron oxide
TKI:

Tyrosine kinase inhibitor
Declarations
Acknowledgements
This work was supported by the National Basic Research Program of China (2015CB931800), the National Natural Science Foundation of China (81471724, 81101088, 81130028, 31210103913), Innovation Fund Designated of Harbin (2014RFQGJ011), Heilongjiang Province Department of Education Science and Technology Research Projects (12521184), the Youth Science WU LIANDE Foundation of Harbin Medical University (WLD-QN1119), the Fourth Hospital of Harbin Medical University Fund for Distinguished Young Scholars, and the Key Laboratory of Molecular Imaging Foundation (College of Heilongjiang Province).
Authors' contributions
BS initiated and oversaw the project. All authors were responsible for the article. The manuscript was drafted by ZH, XS, and YW and was discussed and critically revised by BS, ZC, and XS. YW and YX provided help for collecting the material. KW gave administrative support. All authors approved the final draft of the manuscript.
Competing interests
The authors declare that they have no competing interests.
Consent for publication
Not applicable.
Ethics approval and consent to participate
No studies with human participants or animals performed by any of the authors were included in the article.
Publisher's Note
Springer Nature remains neutral with regard to jurisdictional claims in published maps and institutional affiliations.
Open AccessThis article is distributed under the terms of the Creative Commons Attribution 4.0 International License (http://creativecommons.org/licenses/by/4.0/), which permits unrestricted use, distribution, and reproduction in any medium, provided you give appropriate credit to the original author(s) and the source, provide a link to the Creative Commons license, and indicate if changes were made.
Authors' Affiliations
(1)
Molecular Imaging Research Center, Harbin Medical University, Harbin, China
(2)
TOF-PET/CT/MR center, The Fourth Hospital of Harbin Medical University, Harbin, China
(3)
Molecular Imaging Program at Stanford (MIPS), Department of Radiology, Stanford University School of Medicine, Stanford, USA